Pro-Ject's VC-S MK II Record Cleaning Machine.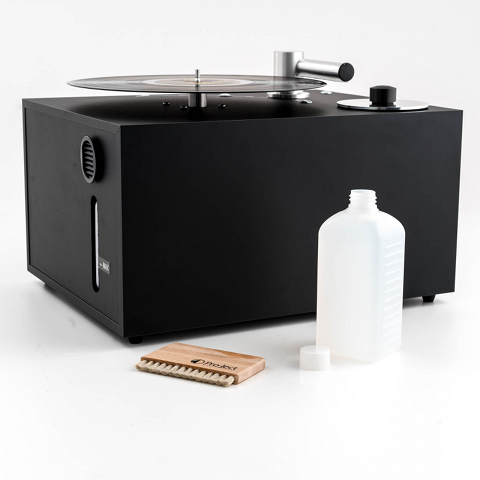 Source: Press Release, Last Accessed: 2017/10/27
Pro-Ject Audio Systems launched their first Record Cleaning Machine (RCM) in 2016 to worldwide critical acclaim for its simple design, effective cleaning ability and solid build. Now, the Austrian company are expanding on the knowledge acquired from their first RCM to release a MK II version with improved performance and features.
The VC-S MK II still uses a specially developed cleaning solution and high-powered vacuum technology to breathe new life into record collections, but improvements around the arm, motor, clamp and chassis further enhance both the performance and the ease of use, the company says.
The new machine boasts the same vacuum technology as the original model, meaning a record side can be dried in as little as two rotations; but the motor has been replaced with a new low-noise type that still delivers the torque and speed required for quick operation. The new motor is also still capable of dual-directional rotation, for deeper cleaning of the record groove.
The MK II chassis now has printed (rather than sticker-form) labels for a sleeker, more professional finish. Similarly, the new long-life brush with plastic handle gets deep into the record groove for optimal cleaning performance. The re-designed stainless steel clamp makes an even more reliable fastening to the platter spindle, while the rubber layer on the inside of the clamp continues to keep record labels safe and dry. Finally, the improved plastic flange with additional internal sealing ensures a smooth adjustment of the vacuum arm, while retaining the highest possible suction performance.
Otherwise, the overall design of the VC-S is retained in the MK II. The clamp avoids the need for a platter, which could potentially bring dirt into contact with a clean record surface; and the vacuum arm is robust and mechanically stable with no spring mechanisms.
For more information: http://www.project-audio.com/
---