Stellar Gain Cell: A new DAC/Preamplifier from PS Audio.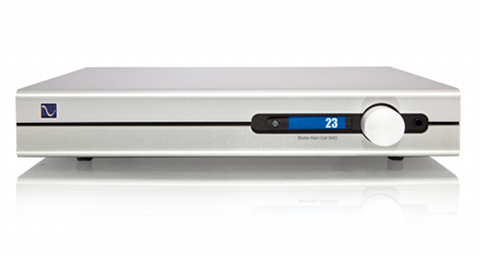 Source: Official website, Last Accessed: 2017/01/25
PS Audio claims that there isn't a DAC made that doesn't benefit from a great analog preamplifier, therefore it is not a surprise that the Stellar Gain Cell DAC combines the benefits of both—a full-featured DAC with an exceptional analog preamplifier controlling its output level. Featuring a fully balanced circuitry from input to output, the Stellar Gain Cell DAC builds upon years of research and innovation in the art of digital audio and Class A analog amplification.
According to the details published, at the heart of Stellar Gain Cell DAC is a Bob Stadtherr designed, digital to analog converter. Based on industry leading Sabre32 bit Hyperstream architecture, Stellar DAC also features a fully balanced Class A analog output stage with multiple power supplies, digital inputs with powerful jitter attenuation, DSD compatibility, I2S connection, and asynchronous USB.
The DAC's output level is controlled by the analog Gain Cell. Developed in the early 2000's by PS Audio founder Paul McGowan, the Gain Cell elegantly solves a fundamental problem faced by preamp designers. Volume control. Nearly all analog preamplifiers use additional sonically degrading elements inserted in the signal path to control volume. These impediments to the signal path's purity range from simple potentiometers to exotic stepped attenuators, relays, solid state switches, ladder networks, transformers, even light dependent resistors. All share intrusive elements in the signal path. The Gain Cell eliminates this problem without additional circuitry in the signal path by varying its gain in response to front panel controls.
The Gain Cell DAC features a high-resolution USB path based on the same XMOS technology found in PS Audio's DirectStream DAC. Asynchronous and capable of 24-bit 192kHz performance for PCM and single or double rate DSD, the Gain Cell DAC USB input sounds every bit as good as the best digital audio is capable of, the company says. Using a high-quality USB cable between the Gain Cell DAC and a computer creates an instant media server that can be controlled through any number of handheld devices like an iPad, iPhone or Android using a 3rd party controller program. The entire music library can be managed by iTunes, JRiver, MConnect, Windows Media Player, Foobar, Pure Music, Bit Perfect, Media Monkey, Audirvana, or Ammara (to name a few) for ease of use.
Apart from the USB port and the I2S connection, Stellar Gain Cell DAC includes four analog inputs (one balanced) and standard digital inputs (both coaxial and Toslink), all capable of 192kHz streaming.
The device is scheduled for delivery mid-April, 2017.
For more information: http://www.psaudio.com/
---