Sonos to offer smart loudspeaker with support for multiple voice services.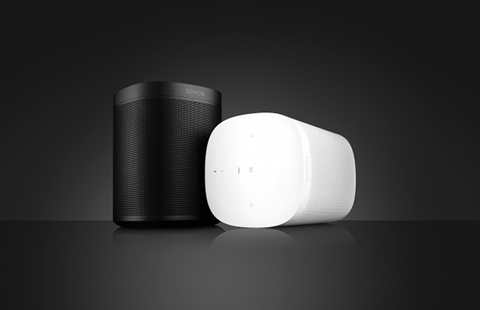 Source: Press Release, Last Accessed: 2017/10/04
Sonos introduced the Sonos One, an all-new, voice-controlled smart loudspeaker, capable of supporting multiple voice services and playing music, podcasts, audiobooks, and other sonic content from more than 80 streaming services. The Sonos One launches with Amazon Alexa on Oct. 24 while Google Assistant is to follow in 2018.
At launch, music fans in the US, UK, and Germany can ask Amazon Alexa to control Sonos One out of the box, with full voice support for Amazon Music, iHeartRadio, Pandora, SiriusXM, and TuneIn. Alexa voice control for Spotify on Sonos One will be coming soon after launch. Voice transport controls like pause, skip, volume up and down, and even asking what's playing will be available for all other music services Sonos supports. With Sonos One, owners can use voice to control their entire Sonos home sound systems. In addition to support for music, Sonos One will allow owners to enjoy all the other great things people love about Alexa – they can hear the weather, set timers, listen to news and traffic reports, and even hear the latest sports scores.
In 2018, the Google Assistant comes to Sonos One, making it the first and only smart loudspeaker to support multiple major voice services. With the Google Assistant and Sonos, customers will not only have a good sounding loudspeaker, but a personal assistant that's ready to help throughout the day: listen to music, ask questions, keep track of the latest news, dim the lights, or hear about what's next on the to-do list.
Sonos One is part of the Sonos home sound system, so it works seamlessly with other Sonos loudspeakers and gives access to more than 80 music services. It can be used as a standalone loudspeaker, or as a wirelessly connected pair for stereo sound, or with PLAYBASE or PLAYBAR to create home theater surround sound. The device includes two Class-D digital amplifiers, one tweeter, and one mid-woofer. A six-mic array and an adaptive noise suppression algorithm allows the system to focus on the right person and ensure the voice service understands everything clearly. The light on the loudspeaker will be illuminated if the microphones are active.
For more information: http://www.sonos.com/