Sonos introduced PLAYBASE - an off the wall approach to TV sound.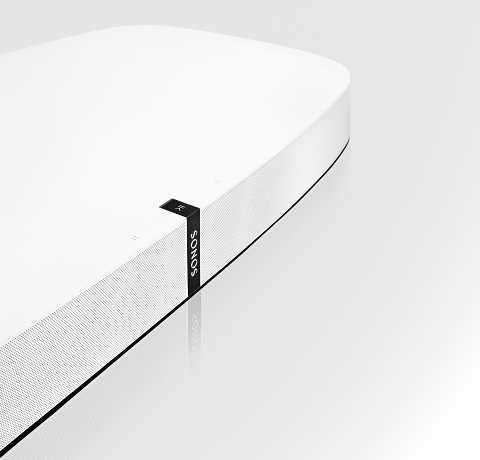 Source: Press Release, Last Accessed: 2017/03/07
Sonos announced Playbase, the latest addition to its wireless home sound system and the newest loudspeaker in their home theater lineup. It slides underneath the TV, delivering powerful home theater sound when the TV is on, and music all the time when it's off. Inspired by the simple insight that up to 70% of all TVs stand on furniture and are not mounted to the wall, Playbase is a thin, yet powerful loudspeaker that sits discreetly under the TV. Priced at $699 US and either in black or white color, Playbase will be available globally, starting on April 4, 2017.
At just 58 mm in height and packing 10 drivers, Playbase appears as if it was cut from a single piece of granite and challenges conventional expectations of sound from a thin speaker, the company says. The construction comes together with no visible seams resulting in incredibly clean lines, an ultra-flat top surface, and more than 43,000 holes that make up an acoustically transparent grill. Playbase was built from the ground-up by Sonos with unique manufacturing processes and materials, including a complex insert molding process and a custom-designed glass-filled polycarbonate exterior to keep vibration to a minimum and withstand the weight of a TV for years to come.
Designed for TVs that aren't wall-mounted, Playbase is easy to control and set-up using just two cords (optical and power). It expands to other rooms when wirelessly connected to a Sonos home sound system, and is equal parts TV speaker and music speaker, with access to more than 80 music services. The company also announced that later this year, like every other Sonos speaker, users will be able to control Playbase using their voice and any Amazon Alexa enabled device.
All of Playbase's 10 custom-designed drivers with dedicated amplifiers – six mid-range, three tweeters, and one woofer – are controlled by software, the result being a sound stage much wider than the loudspeaker itself. Through software, Sonos is also able to deliver flexible control experiences – whether with the TV remote, Sonos app, or select partner apps—and add new features over time. This includes Trueplay, recently available for Sonos' home theater products, which adjusts the sound of Playbase to the specifics of any particular room. In addition, Dialogue Enhancement and Night Mode, both options within the Sonos App, allow for enhanced vocal clarity or toned down bass for loud action scenes.
Current Sonos owners have access to an exclusive pre-order of Playbase on Sonos website.
For more information: http://www.sonos.com/
---