Sonus Faber announced the new Homage Tradition Collection.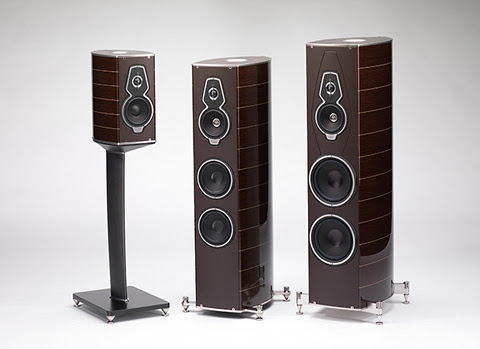 Source: Press Release, Last Accessed: 2017/02/02
Sonus Faber restyled their Homage collection, the company's most iconic line which has been completely revamped in keeping with its rich past and precious legacy. The Homage Tradition collection features four models, the well-known Amati, Guarneri and Vox and the newcomer Serafino, a 3.5-way floorstanding loudspeaker, whose name is taken from the history of Italian violin-making (Santo Serafino, 1699-1758, a Venetian master trained at Nicolo Amati workshop).
The patents and technological solutions of Lilium, Il Cremonese and of the Olympica collection find further evolution inside Homage Tradition, the company says. The "Stealth Ultraflex" is the evolution of the "Stealth Reflex" system; its external part at the back panel, is made from extruded Aluminum and controls the flow of air through the duct while controlling its speed and reducing any turbulence and hence distortion. The back too is part of the Exosqueleton system complete with Dampshelves on top and bottom of the loudspeakers. Guarneri and Serafino feature the so-called Silent Spikes, coaxial metal/elastomer/metal spikes which reinterpret the classic patented "Z.V.T." (Zero Vibration Transmission) system and derive from Il Cremonese. Amati keeps the classic optimized suspension system. The drivers of the Homage Tradition Collection are derived directly from Il Cremonese and have been further developed to create an exclusive and unique design.
According to the press release, the lute shape of the cabinets of the collection is the result of careful research and major restyling. The curves of the sides are blending the lines of previous models of the Tradition collection with those inherited from Lilium, giving larger volumes especially on the back. This approach allows the cabinet to better control internal resonances.
The distinctive feature of the design of the new Homage Tradition collection – and a recall of the original Homage collection – is the new layout of the top, whose main accent is, once again, wood, with the same finish used in the cabinet sides. The Guarneri Tradition stand plays a key role in both the aesthetic and the acoustic design. It's a carbon fiber monocoque and sums the know-how gained through the Sonus Faber-Pagani Automobili partnership and Ex3ma production. The curved outline of the stand, though much lighter and acoustically transparent than its predecessor, ensures maximum structural strength.
Homage Tradition collection is available in two finishes, the Red (traditional walnut wood with black inlays combined with brushed black Aluminum and black leather) and the Wenge (Wenge wood, used for the first time by Sonus Faber, with maple inlays and brushed aluminum in titanium finish and brown leather).
For more information: http://www.sonusfaber.com/
---