Pump up the party with High Power Audio systems from Sony.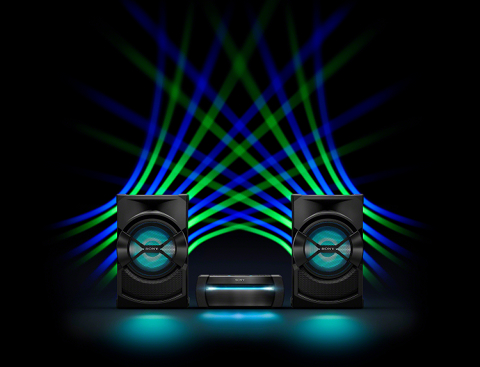 Source: Press Release, Last Accessed: 2017/03/20
The High Power Audio systems, MHC-V50D and SHAKE-X30D, from Sony, are designed to bring the party to any room, offering superb sound quality and great power, thanks to the exclusive Smart High Power Technology and Mica Cone loudspeaker drivers used.
According to the press release, there are plenty of "party features" in these Hi-Fi systems, like party lights and karaoke mode, Motion Control and DJ effects. At the same time, these new additions to the booming bass range let the user to simply connect his phone and hit play on his favorite playlist; wireless music listening is possible with Bluetooth technology with one-touch listening via NFC.
The all-in-one MHC-V50D features Smart High Power Technology, that is designed to increase acoustic pressure and offers powerful bass from a folded horn chamber and an enlarged output port. The woofer uses a cone made from Mica Reinforced Cellular (MRC) fiber, making it rigid and able to hold its shape even when moving at high pressure and speed, not compromising the audio quality.
Fiestable App controls the colors of the loudspeaker lights and the space-illuminating lights to sync to the beat and fill the dance floor. Motion Control makes it easy to operate features such as playback, DJ, sampler and lighting with a hand-wave. The back-lit touch panel makes the control easy at any hour, day or night. There is a dual mic input and an HDMI output for complete karaoke-DVD sessions. The V50D comes in a compact one-box design with a carry handle.
The SHAKE-X30D is a 3 box design, boasting the same Mica Cone loudspeakers and Smart High Power Technology as the MHC-V50D. The system features a dual mic input for karaoke battle sessions, a slot to plug a guitar in, for jamming sessions, and an HDMI ARC input to connect to a TV-set. There are, also, DJ features and sound effects such as echo and fader, while the loudspeakers light up and project space illuminating light into a nearby wall in flashing patterns that changing color to sync to the beat.
Both systems are already available with the MHC-V50D priced at around €500 and the SHAKE-X30D at around €750.
For more information: http://www.sony.com/
---