Timestep's EVO GR turntable: an enhanced version of Technics' new and more affordable deck.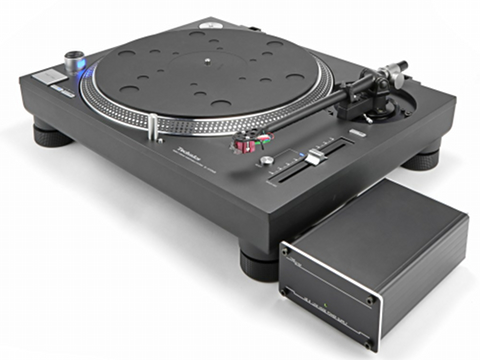 Source: Press Release, Last Accessed: 2017/06/22
Devon-based Timestep has earned quite a reputation for its modifications of various iconic Technics turntables. Now, designer Dave Cawley turns his attention to a more affordable deck - the new Technics SL-1210 GR - to create the enhanced Timestep EVO GR.
The Technics SL-1200 has long been a legendary turntable and first choice for generations of vinyl fans. Earlier this year, the brand unveiled the new "standard" SL-1200 GR, incorporating many of the technological highlights of last year's "reference" SL-1200 G, but at around half the cost. This was soon followed by the SL-1210 GR, a black version of the new GR deck and the first new SL-1210 turntable for a decade.
Having already created award-winning revisions of several earlier incarnations of the SL- 1200, Timestep's Dave Cawley couldn't resist the challenge and the new EVO GR includes a number of canny revisions, then adds an excellent quality tonearm to deliver a superbly engineered package whose upgraded technical measurements make for highly impressive reading.
"The standard Technics SL-1210 GR, while excellent, cuts costs in two areas: the tonearm and the power supply," says Cawley. "The arm is derived from the original SL-1200 and it's not what I'd call an audiophile arm." The EVO GR therefore replaces the tonearm with a Michell TecnoArm which, Cawley explains, "with its low resonance drilled armtube and under-slung counterweight, is just right - and to top it off, it's black too!". As to the cartridge, which is an optional extra, Cawley typically fits a Denon DL-110 high output moving coil cartridge which he says "works superbly well with a moving magnet phono stage, making it easy to connect to most amplifiers or AV receivers."
Power supply-wise, the EVO GR replaces the SL-1210 GR's internal switch mode with an external linear PSU designed by Timestep. The Timestep power supply's cable exits the SL-1210 GR via a custom-made adapter plate. The PSU connectors are both gold-plated Neutrik.
The Timestep EVO GR is available now, either as a fully finished turntable package, or as selected components to create your own modified Technics SL-1210 GR deck. The total cost of turntable and tonearm package is £2,716.- (for the UK market).
For more information: http://www.time-step.com/
---