Tivoli Audio introduced the Model One Digital: A tabletop radio for the modern era, based on a great classic.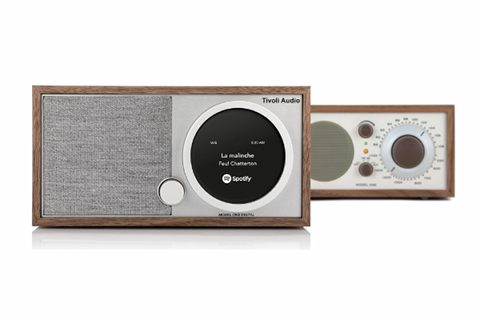 Source: Press Release, Last Accessed: 2017/03/07
Tivoli Audio recently announced the Model One Digital, bringing the quintessential tabletop radio into the age of the smart home. Balancing style, technology, and audio quality, the Model One Digital merges the simplistic elements and user-friendly features of Tivoli's classic Model One radio, but with a tech refresh.
Model One Digital builds upon the rich history of Tivoli Audio's flagship offering, the Model One radio, with the addition of a multi-operational dial and a multitude of connectivity options, including FM, DAB, Wi-Fi, Bluetooth, and Spotify Connect. The high-resolution screen and dial make tuning stations, track selection, and playback controls simple. The user can control the Model One Digital directly, or download the free Tivoli Wireless app and easily connect it with Tivoli's ART loudspeakers to create stereo or multi-room systems, streaming both live radio broadcasts or select one of the many supported music streaming services.
The Model One Digital combines audiophile-grade sound with a simple design. Created with furniture-grade wood cabinets in walnut, black or white, and finished with a high-quality Gabriel fabric speaker grill, this model pairs aesthetically with the existing speakers in the Tivoli ART collection. Later this year Tivoli Audio will be introducing additional models to the collection, while also integrating Amazon's Alexa voice assistant.
The Model One Digital was designed and engineered by the company's chief designer, Paul De Pasquale. De Pasquale says about the product, "Tivoli Audio introduced the original Model One Radio in 2000, to fill a gap in the market for a high-quality and affordable AM/FM radio. Seventeen years later, we are introducing a product that will keep Tivoli Audio on the cutting edge of audio technology for years to come. The Model One Digital will carry Tivoli's legacy of high quality and high design into the age of streaming content and home wireless audio."
Model One Digital retails for $299.99 and can be purchased through their e-hop and selected retailers.
For more information: http://www.tivoliaudio.com/
---