Ultrasone unveiled the Edition 15.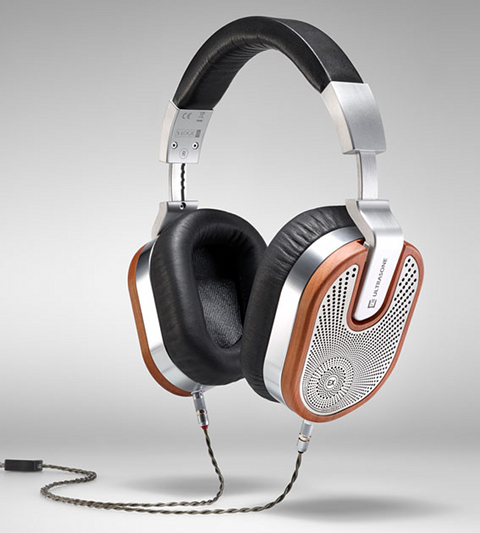 Source: Press Release, Last Accessed: 2017/11/7
With the Edition 15, Ultrasone is expanding its product range with a set of top-class open reference headphones, being their first set to feature GTC driver technology, a completely new development that perfectly reproduces the whole audio spectrum with real transparency and precision and the first to feature the S-LogicEX technology, for authentic stereo image and remarkably clear depth of sound. With high-quality materials such as American cherry wood for the ear cups, Merino leather for the headband and ear cushions with microvelour, the Edition 15 headphones also have a premium look and feel to match their high-end sound, Ultrasone says. Production of the Edition 15 is limited to 999 headphones.
The highlight of the Edition 15 is the gold-titanium compound driver technology, an in-house development known as GTC for short. This technology combines a gold membrane with a titanium dome to produce unique sound qualities. According to the press release, audio reproduction is taut and precise across the entire frequency range, from the lowest bass notes to the most delicate of trebles.
The Edition 15 is the first of Ultrasone's open headphones to feature the patented S-LogicEX technology. Thanks to a special, fine-tuned driver arrangement, the sound is extremely natural, with a quality that is closer to playback on premium loudspeakers than the typical headphone experience. The result, according to Ultrasone, is an authentic stereo image and vibrant depth of sound. Headphones with S-Logic technology also require significantly lower sound pressure for the same perceived volume. This reduces listener fatigue, so even those longer listening sessions will be effortless the company claims.
The ear cups are made from the exquisite wood of American cherry trees, while the microvelour ear cushions and the Merino leather headband cushioning complete the listening pleasure. If the cushions get damaged at any point, they are easy to replace thanks to the ingenious magnet attachment. The stainless steel panels underline the open construction and giving the Edition 15 a unique look. The set features high-quality LEMO connectors and a four-core cable, being ready for balanced output headphone amps.
Ultrasone announced that only 999 sets will be available in stores from the end of November 2017.
For more information: https://ultrasone.net/
---