Unison Research announced the Unico 90 integrated amplifier.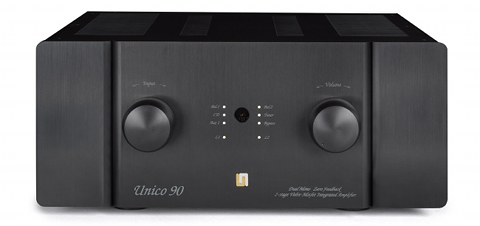 Source: Press Release, Last Accessed: 2017/08/21
In 2015, Italian valve specialists Unison Research renovated their Unico range of hybrid Hi-Fi electronics with the introduction their new flagship, the Unico 150 integrated amplifier. Now, the lessons learned in the development of the Unico 150 have resulted in the introduction of an alternative high-end offering. According to the press release, the Unico 90 is an amplifier featuring as few active amplification stages as possible, to produce a clean musical signal that is true to the original source material. Where the more powerful flagship, Unico 150, has three active stages, the Unico 90 boasts lower power specifications but only uses a two-stage circuit with zero global feedback.
The Unico 90 offers three RCA and two XLR pair inputs, fixed and variable RCA outputs as well as bi-wirable loudspeaker terminals. The large casework is built to the same exacting standards as previous Unico designs, but the Unico 90 borrows the same three-plate front fascia introduced with the Unico 150, which adds an aesthetic enhancement over its predecessors, the company states. Operation is simple and effortless either via the large front-panel controls or the supplied RC2 system remote.
The whole preamplifier section of the Unico 90 is entirely passive, featuring an ALPS potentiometer for the volume control, while the input switching control decouples inactive source inputs, reducing cross-talk. Input selector employs miniature mechanical relays made to very fine tolerances for zero signal loss.
The gain stage is made up of ECC83 tubes in a double triode totem pole configuration and ECC81 in parallel totem pole. The result of the circuitry effectively delivers six triodes per-channel with perfectly matched gain, near-flat distortion and minimal output impedance, while providing sufficient power for the gain stage to be coupled directly to the power stage. Inside the output stage, three pairs of HEXFETs are used per-channel. The Unico 90 is a dual-mono amplifier, and three pairs of Class AB-biased HEXFETs are used per-channel, to provide 160W (4Ω) of power. All the capacitors used are specially selected for their excellent performance at very high frequencies and innate ability to exhibit very low levels of loss, Unison Research, says. The Unico 90 is available in a Silver finish, or in Black for a surcharge.
For more information: http://www.unisonresearch.com/
---