VPI's Prime Signature turntable.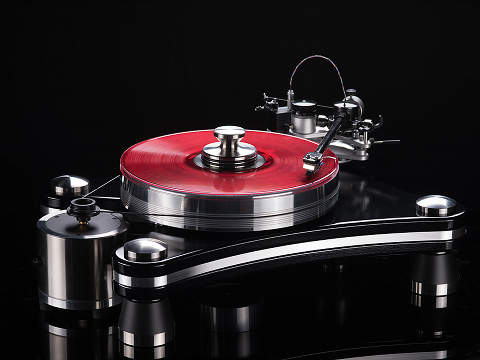 Source: Official website, Last Accessed: 2017/01/25
The Prime Signature is the next step up from the Prime, an apparently big success for VPI, two years after its initial release. It features an upgraded JMW 10-3D Reference arm in a metallic black gloss finish with Nordost Reference wire and some other improvements over the basic model. The chassis consists of an aluminum plate sandwiched between a composite material for improved dampening and due to the additional weight of the table, VPI also upgraded the feet to their Classic Signature type. In addition, both the motor housing and all Delrin posts and armboards were upgraded to a heftier stainless steel.
The vinyl wrapped MDF chassis is bonded with a sandwiched aluminum plate to provide "the ultimate resonance control and to reject feedback", the company states, while the four stainless steel corner posts are designed for isolation and mechanical grounding.
Prime Signature features a 300 RPM, 24 pole, AC synchronous motor which is capable of high torque and quiet operation. The motor is installed in a separate aluminum and steel machined assembly. Main bearing is of the inverted type and features a hardened stainless steel shaft, a 60 Rockwell chrome hardened ball, a phosphor bronze bushing and sits on a PEEK thrust disc (PEEK is a high-performance engineering plastic, preferred in cases where both mechanical strength and dimensional stability is required). The belt side load is placed at the center of the spinning bearing for zero teeter-totter effects. The platter is made from 6061 aluminum alloy and weights about 9kg. Low tolerance machining is employed, both for the platter and the motor pulley and as a result, an accuracy of ±.001-inch in a 39-inch circumference for the platter and ±.0005-inch for the motor pulley has been achieved when leaving factory.
VPI states that the turntable can be upgraded with both their Periphery Ring clamp for record warp reduction, and the Analog Drive System (ADS) for higher accuracy in motor speed and fine speed adjustments.
For more information: http://www.vpiindustries.com/
---