Wilson Benesch unveiled the Resolution floorstanding loudspeaker.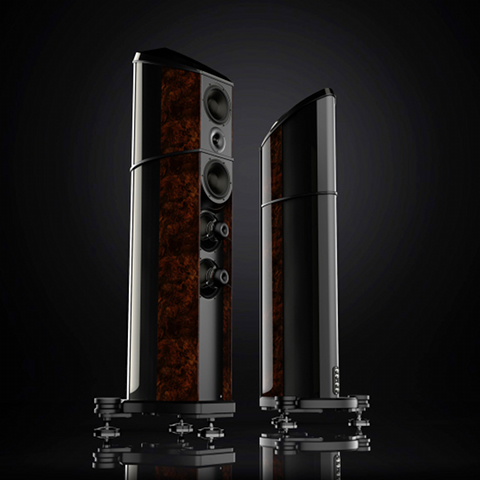 Source: Press Release, Last Accessed: 2017/05/27
Resolution is the latest loudspeaker from the Wilson Benesch loudspeaker Geometry Series. Designed and engineered at the Wilson Benesch manufacturing facility in England, the Resolution incorporates the company's state-of-the-art drive technology in a unique high-tech enclosure, formed from a carbon fiber composite monocoque and precision-machined metal-alloy components.
The Geometry Series has been developed using advanced Dassault 3D CAD/CAM systems, and the Resolution is no different; its form follows function, giving rise to the curved, sculptured forms seen in the carbon fiber top or the curved composite enclosure. According to the press release, these forms increase the enclosure stiffness and reduce the incidence of standing waves in the listening environment. Combining complex geometry and component design with carbon composite – metal alloy materials, Resolution's enclosure is one of the stiffest, most highly damped loudspeaker enclosures ever created.
Resolution features the latest Wilson Benesch drive technologies, including the Tactic-II dynamic drive unit and the Semisphere Tweeter, both built using powerful NdFeb magnets. The company utilizes Isotactic Polypropylene in the Tactic-II and a Silk-Carbon hybrid dome in the Semisphere. The Resolution is characterized by a wide-bandwidth frequency response, from 30Hz to 30kHz.
With a complement of 12 Tactic-II dynamic drive units and 2 Semisphere Tweeters per pair, the Resolution is a complex loudspeaker design. In the midrange and high frequency, Wilson Benesch place an upper and lower midrange drive unit either side of the Semisphere Tweeter in an arrangement known as the Troika System. This architecture delivers perfect time and phase coherence, the company states. Bass is delivered by 4 Tactic-II dynamic drive units forming 2 clam-shell Isobaric drive systems.
The Resolution can be finished with a range of bespoke high gloss polymers, stunning natural wood veneers and P1 colored carbon fiber finishes to give the loudspeaker an identity unique to its owner.
For more information: http://wilson-benesch.com/
---