Yamaha unveiled the R-N303 Network Hi-Fi Stereo Receiver.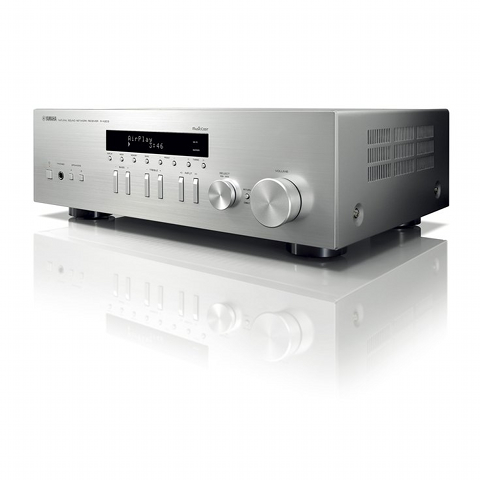 Source: Press Release, Last Accessed: 2017/08/22
The R-N303 connects to a wide array of legacy and modern music sources ranging from turntables to on-line music-streaming services and delivers on sound quality on all music, exceeding expectations for its price in a package that is as handsome as it is practical. The receiver also features Yamaha MusicCast wireless multiroom technology, that distributes music throughout the house to other MusicCast-enabled products — including Yamaha AV receivers, sound bars, and speakers — all controlled wirelessly from an app on a mobile device.
Connectivity options include Wi-Fi, Bluetooth, Apple AirPlay, DLNA and Ethernet. Through Wi-Fi and Ethernet, the receiver also connects to a broad selection of music-streaming services, including Spotify, Pandora, Deezer, Napster, SiriusXM Internet Radio, TIDAL, and thousands of free internet radio stations. DLNA provides the ability to access music on networked PCs, network attached storage devices and DLNA enabled mobile devices. AirPlay allows Wi-Fi connections to Apple mobile devices and iTunes music libraries on computers. A wide variety of supported high-resolution formats include 192kHz/24-bit FLAC, WAV and AIFF and 2.8/5.6MHz DSD.
The receiver is built for Hi-Fi and delivers expectation-shattering sound quality from any source, Yamaha states. Based on a legacy design, the R-N303 is engineered to reduce noise while preserving audio-signal quality and features a Burr-Brown 192kHz/24-bit DAC capable of handling high-resolution music files with a high signal-to-noise (S/N) ratio, while the Yamaha Original Network Module bolsters S/N performance when playing network- and Bluetooth-connected music sources.
For legacy sources, a dedicated phono input is available for a turntable, and a pair of digital inputs (optical and coaxial) for CD players, Blu-ray Disc players, and TVs. The receiver also includes an FM/AM tuner and the power stage yields a maximum output of 140 watts per channel into 8 ohms.
For more information: http://www.yamaha.com/
---