Zesto Audio introduced the Andros Allasso Step-Up Transformer.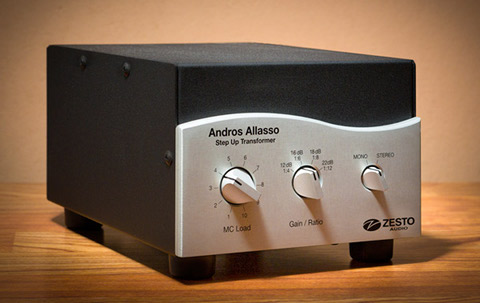 Source: Press Release, Last Accessed: 2017/09/21
Zesto Audio is pleased to announce their first audio accessory, the Andros Allasso Step-Up Transformer. According to the press release, unlike most step up transformers which are customized to a specific phono cartridge with few adjustments, Allasso, a word which in Greek means "to change or transform one thing to another" is the most versatile SUT on the market today with 40 adjustments for a Mono and 40 adjustments for a stereo MC cartridge.
Zesto Audio is a company known for their award-winning Phono stages. The Allasso is a product cloned from the same gene pool with all the very best characteristics, components and knowledge that went into those products, the company states.
George Counnas, President and Design Engineer for Zesto Audio exclaims, "I wanted to design a Step-Up Transformer that is very flexible, easy to use and can work on any standard phono preamplifier with a 47K MM input. I designed the Allasso with enough adjustments to tailor it specifically to your cartridge or your next one, and the one after that." All the adjustments are easily accessible on the front and can be done "on the fly" without clicks or pops. Best of all, there are no math skills required, the user can use his ears as adjust, listen and find the best match for your cartridge.
The most prized Allasso features are the 4 gain settings of 12dB, 16dB, 18dB and 22dB and the step up ratios of 1:4, 1:6, 1:8 and 1:12 with 10 load positions for each setting allowing for 40 adjustments in Stereo and 40 in Mono. The Mono switch is a unique feature which takes one input and sends it to both outputs. Mono cartridge lovers have the added benefit of listening in either the Mono or Stereo.
The Allasso is designed with the highest quality multiple turn ratio MC transformers. This allows the user to get the right gain and loading for his cartridge, resulting in the most detail and great stereo imaging, Zesto says. They are quiet, with extra shielding and large enough with the multiple windings to handle even your high output cartridges.
The extensive grounding scheme is designed into the circuitry, binding posts and enclosure. The input ground lift switches help eliminate those pesky ground loops, especially in your Mono cartridges. The RCA connectors are high quality, gold plated with an isolated ground.
For more information: http://www.zestoaudio.com/
---