Aequo Audio introduced two new loudspeakers.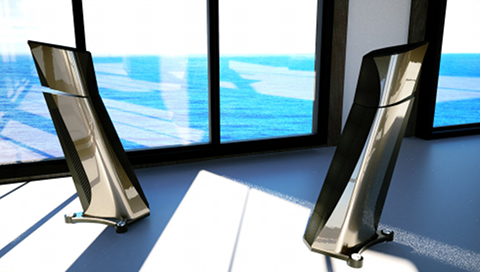 Source: Corporate website, Last Accessed: 2018/05/18
Aequo Audio recently announced two more loudspeaker models, extending the current product family at both ends of the price range, with the Gladium, a more affordable fully passive 3-way and the Diluvium, as the newly redesigned outcome for Aequo's production of the ultimate flagship loudspeaker.
The Gladium will be the first fully passive model to be offered by Aequo Audio. The bigger volume of the cabinet ensures deep frequency extension without the use of ARPEC seen in Aequo's compact hybrid speaker portfolio. Solid construction with double 30mm baffle, state-of-the-art driver-technology and advanced material choices clearly make it a full bred addition to the Aequo Audio stable, the company states. All three drivers are directly derived from Ensis and Stilla, including the 10 inch subwoofer (Ensis) and the EHDL tweeter system. The loudspeaker features an audiophile low-order crossover.
The price for Gladium will be around €10.000,-/pair.
The Diluvium was developed as a hallmark of Aequo Audio's capabilities and pioneering new levels of what's possible in all aspects of Octagon philosophy for ultimate sound reproduction. After prototyping the 2017 design and effortlessly evaluating it following the credo "form follows function", Aequo's designers brought all data back to the drawing board and developed a new cabinet construction, allowing new and larger, front-firing 13 and 11-inch subwoofers, as well as a single new 8-inch upper-bass driver, all in sealed enclosure, individually controlled by ARPEC systems and actively powered by the latest Ncore technology.
The price for Diluvium is expected around €68.000,-/pair.
For more information: https://www.aequoaudio.com/
---