AKM Develops New D/A Converter with Headphone Amplifier, Enabling DSD Playback on smartphones, portable players.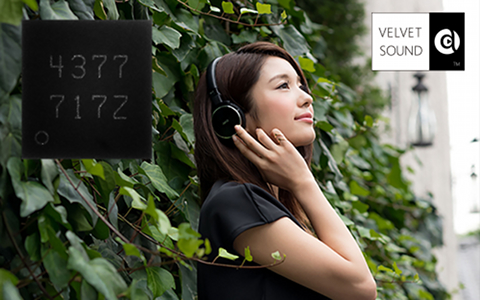 Source: Press Release, Last Accessed: 2018/05/10
As the DSD format continues to gain broader acceptance, AKM has developed the AK4377, a 32-bit stereo digital to analog converter (DAC) with a built-in headphone amplifier that can play DSD sound sources on smart phones and portable music players.
The AK4377 is positioned above the AK4376A, which went on sale in 2017 and had an impressive portable audio track record; it offers improved signal-to-noise ratios (SNR), and total harmonic distortion + noise (THD+N). In addition to a maximum digital PCM input of 768 kHz, the AK4377 also offers support for DSD inputs up to DSD256. This produces faithful reproductions of the original sound, which require the large amounts of data that are characteristic of high-resolution sound sources.
The AK4377 DAC features a built-in headphone amplifier with a THD+N of -109 dB and an SNR of 128 dB. Of particular importance is the THD+N value, which presents flat characteristics at or below -105 dB for the full audible range, the company states.
According to the press release, the new chip uses the Velvet Sound architecture, which is a component of premium DACs designed for high-end audio equipment, to achieve greater refinement in sound reproduction.
Asahi Kasei Microdevices Corporation (AKM) is a Japan-based company designs and manufactures CMOS mixed signal integrated circuits and magnetic sensors for applications including audio, multimedia, consumer electronics, industrial infrastructure, and telecommunications.
For more information: https://www.akm.com/
---