Antipodes introduced the ΕΧ music server.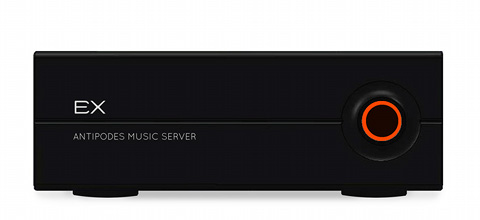 Source: Official website, Last Accessed: 2018/01/29
The Antipodes EX is an evolution of the Antipodes EDGE, but it is made to the same specification level as the flagship DX, becoming only the second of their music servers to get the "X-Series" designation. The new server provides a low entry price level to the digital audio high-end, because it does not require to add a DAC and, also, offers a clear upgrade path, allowing the user to add a high-quality USB DAC later. Moreover, the user can opt for the optimal solution, by adding a CX to use as the server and leaving just the rendering functions to the EX.
The EX uses the same V4X circuit for signal handling that is used in the DX and the only difference driving relative audio performance is that the it uses a single internal ODAPS2 power supply, while the DX uses dual ODAPS1 power supplies. Other differences from the DX are that the EX uses the half-width form factor, supports user-installable storage and does not have an integrated ripper.
The EX is built in a 4-chamber chassis, separating wiring and switches, the power supply, storage disks and signal handling from each other. The EX is the first music server to use Antipodes' newly developed ODAPS2 power supply technology, which reduces high frequency noise without resorting to filtering that would impede the speed of current delivery needed in a music server.
Owners of an EX can use any USB ripper to auto-rip their CDs, or add the new P1 platform, with its integrated high precision ripper. The EX is designed so that the user can add his own storage disks, and he can self-install up to 4TB of HDD or up to 8TB of SSD storage.
Antipodes have added one more key feature to the EX, a high quality stereo analog output. Customers moving from a CD player can start with the EX and play direct to their amplifier, and leave adding a high quality USB DAC till later. This is an inexpensive way to reveal the benefits of getting the digital part right, the company says, and is limited to PCM and up to 24 bit 192kHz. Other formats will be transcoded on-the-fly for playback.
For more information: http://antipodesaudio.com/
---