ACRO L1000: Astel&Kern's desktop headphone amplifier.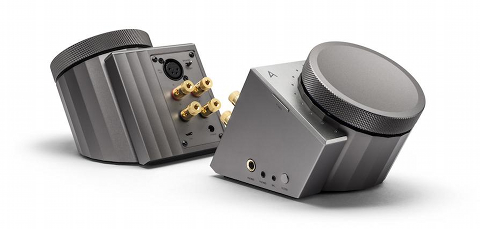 Source: Official website, Last Accessed: 2018/02/01
Astell&Kern recently introduced a new sub-brand of desktop audio products called ACRO and by using their expertise and knowledge in designing portable audio devices, announced the first product in the series, the ACRO L1000, the company's first desktop headphone amplifier.
The ACRO L1000 features two AK4490 DAC chips, the same proven performance DACs found in the popular and successful Astell&Kern AK380 players. With the Dual DAC configuration, the ACRO L1000 delivers superb resolution and rich spatial sound, the company states. According to the press release, the L1000 plays back bit-to-bit high-resolution PCM digital audio up to 32bits. A 32-bit CPU has also been added for the most accurate processing of digital audio playback, without compromising audio quality. As a result, the ACRO L1000 can reproduce up to 32bit/384kHz PCM as originally recorded, with no down-sampling. The L1000 also supports native DSD playback up to 11.2MHz, without conversion.
The amplifier can be connected to a universal 3.5mm/6.3mm jack, or to a headphone or earphone with a 2.5mm/4-pin XLR balanced jack and can stream audio files through a PC or MAC via Micro USB cable. Additionally, the L1000 features speaker binding posts offering a maximum audio output of up to 15W per channel at 4 ohms. The ACRO L1000 provides three sound settings with Neutral, Bass-Boost, and High-Gain filters respectively, to suit listener's preferences.
As it sits on a desk, the 30-degree angle will naturally fit everyday use A&K says. The size of volume wheel is designed to fit the hand, and the knurled pattern allows the perfect feel, while the accent of the LED rim lights around the volume wheel adding a subtle, yet comfortable music listening ambience.
The L1000 is compatible with the AK380, AK320, AK300, KANN, AK70, AK70 MKII, and SP1000 portable players through an OTG USB cable.
For more information: https://www.astellnkern.com/
---