ATC launched CDA2 Mk2 CD/DAC Preamp.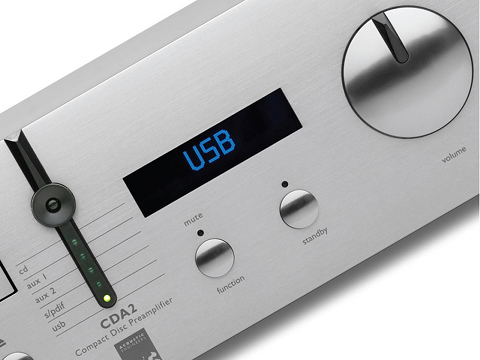 Source: Press Release, Last Accessed: 2018/01/23
ATC announced the arrival of the CDA 2 Mk2 CD/DAC preamp, which represents a re-engineering of its predecessor in all the key performance areas. According to the press release, wholesale upgrades to the company's leading source product, deliver audiophile levels of accuracy and dynamics to music reproduction, combined with extraordinary value for money. Developed as the ideal partner for ATC's latest P2 power amplifier and active speaker designs, the Mk2 combines USB access to high-resolution music streaming with an upgraded CD transport and DAC board, dedicated headphone amplification, wider input selection and analogue circuits redesigned for an extremely wide and flat frequency response with very low distortion.
Joining rear panel coaxial and optical 192kHz inputs, the Mk2's new high resolution USB input is capable of handling PCM data up to 384kHz and, also, DSD64, DSD128 and DSD256 natively. Excellent jitter rejection ensures that signal integrity is maintained even with poorer quality sources and over long cable runs. Completing the Mk2's wider digital interface, a new TEAC-supplied CD transport, delivers faster play and seek times, much lower mechanical noise and improved error correction.
The meticulously re-engineered analogue circuits optimize ATC's implementation of a new premium 32-bit AKM DAC, selected for exceptionally low noise and distortion, the company states. Supporting the DAC, the Mk2's power supply architecture employs no fewer than nine additional high performance voltage regulators, and local power supply decoupling has been improved from the Mk1, yielding further performance gains.
In another refinement, both input and output gain stages have been improved by an arrangement of discrete op amps comprising six common gain blocks: two for left and right input buffering, and four to provide a "true" differential output for the left and right channels. The positive and negative drivers are arranged in parallel to ensure that the signal delays and phase shifts are identical on both sides. The output stages are configured as unity gain complementary compound (Sziklai) pairs, biased in class A. These major design revisions combined with many marginal gains (from hand-soldering surface mount components on the legs of specific chips for instance) ensure that the CDA2 Mk2's analogue stage exhibits exceptionally low noise and distortion across a very wide bandwidth.
Also benefiting are twin rear-mounted analogue phono/RCA inputs and an additional aux analogue input via 3.5mm mini jack, which is equipped with high input sensitivity for improved compatibility with phones, tablets and other low output portable devices. Additionally, the Mk2 features a revised high performance headphone amplifier capable of driving headphones from 30 - 600 ohms, delivering exceptional results from the vast array of modern headphone designs. Output is via a rear panel mounted 6.35mm jack.
The CDA2 Mk2's chassis is constructed from a combination of steel and aluminum and uses constrained layer damping to control panel resonances. The front panel is machined from an extruded section of 13mm aluminum alloy with a brushed and anodized silver finish. ATC's wholly upgraded preamp/player is supplied with IR remote control and is covered by a six year warranty (2 years CD mechanism).
For more information: http://www.atcloudspeakers.co.uk/
---