Audio Research announced the new Reference 160M vacuum tube amplifier.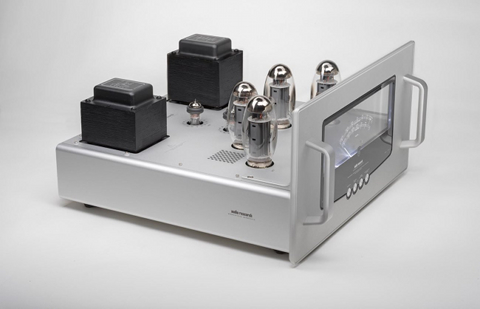 Source: Press Release, Last Accessed: 2018/04/12
The new amp features a refined audio topology with fewer and better components in the signal-path, switchable Ultralinear/Triode operation, proprietary auto-bias, output tube monitoring and protection, an advanced power meter, and much more. After two years in development, the REF160M is built like no other, looks like no other, and sounds like no other amplifier that you have ever heard, yet it is unmistakably Audio Research the company says.
The designers at Audio Research wanted to create a new style that would complement the look of the REF6 preamp while also featuring a transparent faceplate that allows a view of the glowing KT150 vacuum tubes. While this window allows you to see the output tubes, it also incorporates an innovative dual-layer construction with distinctively etched markings that create an integrated power meter. The power meter's output-level markings illuminate via hidden LEDs, and the illumination brightness is adjustable.
The REF160M includes a sculpted cover with an integrated fan to cool the heat generated by the four KT150 output tubes and two 6H30 driver tubes. Solid-state power regulation was chosen to provide increased efficiency, stability, and reliability. The power supply stage uses a newly developed High Energy Capacity transformer and a hefty bulk storage-capacity network. According to the press release, Audio Research created a new audio circuit topology with the shortest signal path in a special 4-layer circuit board, that lowers the noise floor to unprecedented levels and uses a proprietary auto-bias circuit that works with various tubes types, including 6550, KT88, and KT120.
The REF160M is the first amplifier from Audio Research to provide a front panel switch to allow the user to select the preferred mode of operation, between Triode and Ultralinear. The REF160M will provide a conservatively rated 150 Watts in Ultralinear mode and 75 Watts in Triode mode. The REF160M is, also, Audio Research's first Reference-series amplifier to include single-ended (RCA) inputs in addition to balanced (XLR) inputs so that it can connect easily in any system. The amp also has a RS-232 input and 12V trigger to allow the REF160M to be powered-on remotely.
For more information: http://www.audioresearch.com/
---