Audio-Technica unveiled ATH-CKR7TW headphones with new True Wireless technology.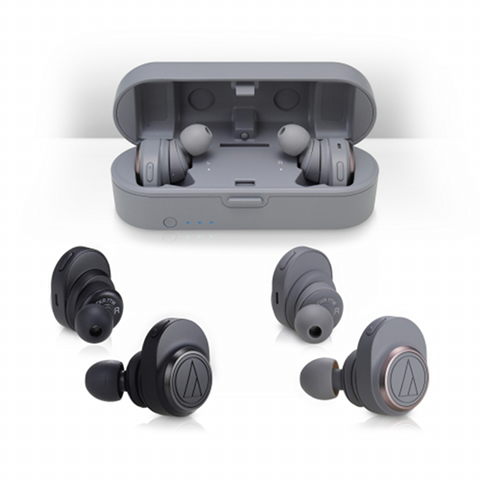 Source: Press Release, Last Accessed: 2018/08/28
Audio-Technica introduced their new Sound Reality ATH-CKR7TW in-ear headphones, which incorporate the company's new True Wireless technology that eliminates all connecting wires.
Constructed using the highest quality materials, the ATH-CKR7TW delivers high-fidelity sound without any wires, the company says. The headphones' sleek design and interchangeable 3D Loop Support provide a discreet yet secure in-ear fit. Conveniently located touch controls provide easy operation of phone calls, music playback and volume adjustment.
According to the press release, the ATH-CKR7TW's specially tuned 11 mm drivers feature a diamond-like carbon coated diaphragm that combines light weight with rigidity for faster response time and reduced distortion. In addition, machined brass stabilizers reduce unwanted resonances and ensure linear diaphragm movement, while a stainless steel mesh acoustic resistor provides improved high-frequency response. Driver performance is further enhanced by isolating the acoustic and electronic components from each other to allow optimum airflow from the drivers.
The ATH-CKR7TW employs a high-quality D/A converter and amplifier, it is compatible with aptX and AAC (as well as SBC) codecs and supports the latest low-energy Bluetooth 5.0 wireless technology.
Available in black and gray, the ATH-CKR7TW offers up six hours of music on a single charge, with its compact charging and protective carry case providing an additional nine hours of use without having to recharge the case. The headphones' operation can be customized using the new Audio-Technica Connect app for iOS and Android. The ATH-CKR7TW comes with XS, S, M and L-sized eartips and a USB charging cable.
The ATH-CKR7TW will be available in Fall 2018. Price on the US market is $248.
For more information: https://www.audio-technica.com/
---