Audioengine unveiled the A5+ Premium Wireless loudspeaker system.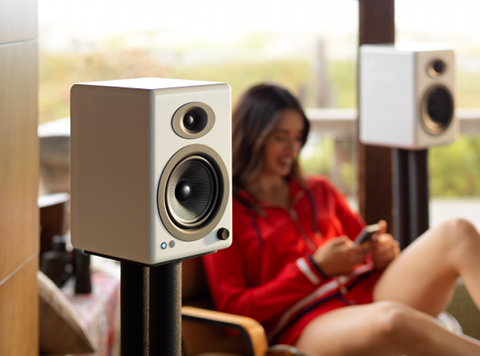 Source: Press Release, Last Accessed: 2018/03/01
Audioengine recently announced the A5+ Wireless Music System, an exciting evolution of the award-winning A5 loudspeakers, offering upgraded aesthetics and the original A5+ signature sound. The A5+ Wireless isn't just a pair of powered stereo speakers but a smart music system that works with Alexa, Siri, and all other voice activated apps, speakers, and devices - as well as every music app on the planet.
The A5+ Wireless eliminates the need for a stereo receiver or separate power amp. And, according to the press release, setup takes just a few seconds with no apps to download and no WiFi hassles. Tidal, Spotify, Pandora, and all your favorite streaming apps play instantly from your phone, tablet, and computer.
The A5+ Wireless delivers the audio performance and thoughtful design expected from Audioengine, featuring Bluetooth aptX-HD wireless streaming capability, a 24-bit upsampling DAC, and extended wireless range. The new loudspeaker makes use of a pair of custom Kevlar mid/woofer drivers and silk dome tweeters, driven by a built-in power amplifier. Cabinets are hand-crafted and are available in satin black, gloss white, and solid bamboo. The system includes a metal remote control and an output to drive an active subwoofer.
For more information: http://www.audioengineusa.com/
---