6000A : Audiolab's new integrated amplifier includes a DAC.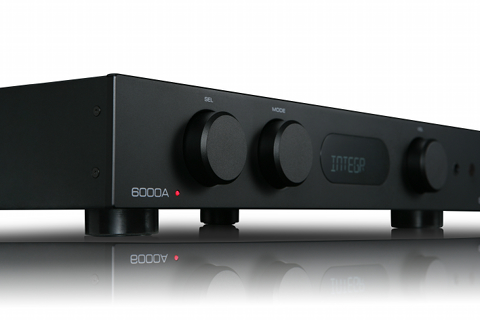 Source: Press Release, Last Accessed: 2018/09/29
When Audiolab launched the iconic 8000A in 1983, it swiftly became Britain's favorite step-up from the budget amps of the time. Its crisp ergonomics, high-quality engineering, useful range of facilities and excellent all-round sound won it a legion of fans. Now, Audiolab harnesses its latest tech to deliver an affordable integrated amplifier, fully equipped to meet the demands of modern music lovers– from vinyl records to digital streaming.
Outwardly, the 6000A bears strong resemblance to the 8300A – Audiolab's existing, much- acclaimed integrated amplifier – with its rotary controls and large, central, OLED display. But while the 8300A costs £899 (in the UK market), the 6000A's recommended price tag is just £599. What's more, unlike its costlier, analogue-only sibling, it incorporates high-quality D/A conversion, enabling digital sources to be connected directly without an external DAC. It supplies four digital inputs, three line-level analogue inputs, an input for a turntable, wireless connectivity via Bluetooth and a dedicated headphone amp. The 6000A's lead electronics designer is Jan Ertner returned to the technologies he implemented in the 8300A and redeveloped them. Audiolab has turned to the ES9018 Sabre32 Reference chip family to perform D/A conversion, utilizing ESS Technology's 32-bit HyperStream architecture and Time Domain Jitter Eliminator to deliver ultra-low noise and high dynamic range. The amp's four S/PDIF digital inputs – two coaxial and two optical – handle hi-res PCM data up to 24-bit/192kHz and benefit from three user-selectable digital filters: Fast Roll-Off, Slow Roll-Off and Minimum Phase.
The 6000A's discrete Class AB power amp stage delivers 50W per channel into eight ohms, with a maximum current delivery of 9 Amps into difficult loads. The output stage of the discrete power amp circuits uses a CFB (Complementary Feedback) topology, ensuring superior linearity and excellent thermal stability, as the idle current is kept independent of the temperature of the output transistors. A high-quality, low-noise, JFET-based circuit with precise RIAA equalization and a dedicated headphone amp with current-feedback circuitry are, also included.
For more information: http://www.audiolab.co.uk/
---