Benchmark unveiled the HPA4 Headphone Amplifier, a design that features ΤΗΧ's AAA technology.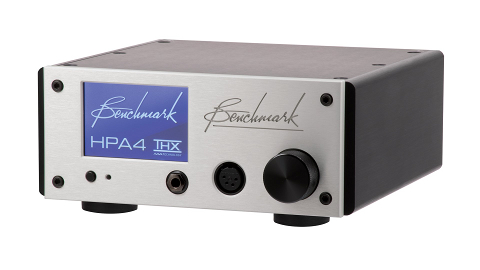 Source: Corporate Website, Last Accessed: 2018/04/20
Benchmark and THX have partnered to introduce the Benchmark HPA4 headphone/line amplifier, based on a circuit that uses THX's Achromatic Audio Amplifier technology which reduces harmonic, intermodulation, and crossover distortion by 20 to 40 dB, to guarantee a realistic and fatigue-free listening experience. Benchmark already used this technology in their highly acclaimed ΑHΒ2 power amplifier. According to the information available lower distortion figures are accomplished using a patented feed-forward topology to null conventional distortion and noise mechanisms, resulting in the world's most linear amplifier. THX AAA allows the amplifier to reach its maximum output power and sound pressure level (SPL) without producing the distortion that normally accompanies increased output levels in traditional amplifiers, the company states.
Featuring the flagship THX-888 amplifier design, the revolutionary HPA4 headphone amplifier incorporates the same THX AAA technology that Benchmark uses in the AHB2. The THX-888 amplifier is driven by a Benchmark line amplifier that features relay gain control, relay input selection, and relay muting. The line amplifier incorporates the finest gold-contact relays available. The gain control has 256 steps in 0.5 dB increments. It also features a balance control. Relay closures are precisely timed to deliver silky-smooth volume changes. The HPA4 includes 4 independent 256-step attenuators: two for the L&R headphone outputs, and two for the L&R line outputs. To make this all happen, the HPA4 includes a total of 64 precision relays.
The HPA4 is 100% analog. It is designed to be driven from an external D/A converter or an external analog source. The THX-888 amplifier can cleanly deliver high voltage into low-sensitivity high-impedance headphones and it can cleanly deliver high power and current into low-impedance headphones. The HPA4 delivers 11.9 Vrms into 300 Ohms and 6 Watts into 16 Ohms.
Headphones are connected through either a 1/4-inch TRS or a 4-pin XLR output while the device also features two balanced stereo inputs and two unbalanced stereo inputs. The line amplifier provides one balanced stereo output, one balanced mono sum, and one unbalanced stereo output. The touch screen provides easy access to advanced features such as balance control, input level offsets, input names, screen dimming, remote control, and function locking. Help screens explain the special functions.
The HPA4 is available with a black or silver faceplate and is designed to match the Benchmark AHB2 power amplifier, while it occupies the same footprint as the Benchmark DAC1, DAC2 and DAC3 converters. It includes an IR remote control and can be operated using the optional Benchmark remote.
For more information: https://benchmarkmedia.com/
---