Cayin unveiled N8 flagship DAP with Solid State and Triode Vacuum Tube Output.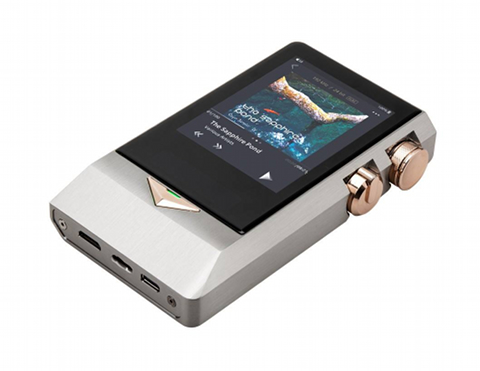 Source: Press Release, Last Accessed: 2018/05/10
N8, Cayin's new flagship portable Master Quality Digital Audio Player made its worldwide debut at High End 2018, offering -for the first time- a dual Direct Heated Triode vacuum tube and a full balanced solid state analog output in one portable package, along with top-class high resolution digital audio capabilities.
The new DAP features two AKM AK4497EN DAC chipsets and can natively decode up to DSD512 and 64 Bit/768kHz with stellar dynamic range and channel separation, the company states. Bin Liang, CEO of Zhuhai Spark Electronic Equipment Co., Ltd., parent company of Cayin, said "While the N8 offers state-of-the-art digital decoding for portable player, it's the analogue that makes it stand our as our statement to the Head-Fi market. For the first time ever, we have created a DAP with choice of Direct Heated Triode vacuum tube and full balanced solid state in one portable package. N8 users can select the audio signature that fit their headphones or music genre conveniently".
On top of being a top-of-the-range standalone player, N8 offers six input and output options, including an I2S digital output (via micro HDMI) which can be connected to the I2S input of Cayin's CS-100DAC. The company, also embedded the S/PDIF Coaxial signal into the Type-C secondary bus pins, a proprietary design for which users will be provided with the necessary adapters to connect the player to portable and desktop DACs. N8 also supports USB Audio, it can function as USB DAC (input) or USB Transport (output) through its Type-C USB interface. Last but not least, N8 comes with dual line-out design. On top of the commonly used single-ended output through the dedicated 3.5mm port, Cayin has added a ground connection to the "Pentaconn" connector so that N8 can facilitate full balanced line out through the shared 4.4mm TRRRS port.
The main N8 chassis is CNC-milled out of a single piece of stainless steel and the back panel is a specially molded 3D toughened Gorilla glass with AF and DLC coating. This combination not only offers attractive visual impact, it is also a functional design that feels good when you grasp it.
Cayin N8 is scheduled to launch at August 2018. The suggested retail price will be announced soon.
For more information: http://en.cayin.cn/
---