Chord Electronics announced the Hugo M Scaler, capable of up to 768kS/s.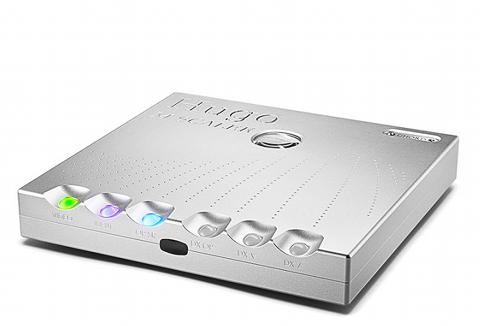 Source: [corporate website], Last Accessed: 2018/07/23
The Hugo M Scaler is a highly advanced standalone upscaler which uses Rob Watts' (Chord's digital design consultant) unique filter technology, the most advanced in the world the company claims, to upscale standard 44.1kHz digital audio up to 705.6kHz (16x CD's 44.1kHz native resolution), ready to be passed to a suitable DAC; Hugo M Scaler extends its upscaling performance to 768kHz (from 96kHz input data) for Chord's dual-BNC-input DACs: DAVE, Qutest and the new Hugo TT 2.
According to the information published, the Hugo M Scaler brings the unrivaled advantages of Chord's ground-breaking FPGA-based WTA (Watts Transient Alignment) filtering technology to digitally connected audio devices, dramatically improving sound quality. Although optimized for use with selected Chord Electronics DACs (for the maximum 768kHz upscaling/decoding benefit), the Hugo M Scaler can be used with other DACs with suitable inputs, subject to their decoding capability.
The Hugo M Scaler's compact form factor aligns with the TT (Table Top) series and has been designed to be stackable with other units in the range, including the TToby stereo power amp and the Hugo TT 2, to form a highly advanced yet space-saving system. In line with other models in the Hugo and Hugo TT series, the device features a number of illuminable fascia-mounted spherical controls, governing input selection, output sample rate and video mode for lower latency. The control spheres display data visually including input source and the incoming sample rate, using a polychromatic scale.
The device is purely digital, offering 4 standard digital inputs (2 BNC and 2 Toslink), a galvanically isolated USB port, compatible with both PCM and DSD data (DSD up to DSD256, the stream is transcoded to PCM), and three digital outputs, one BNC, one Toslink and a galvanically isolated dual BNC output which supports the maximum sampler rate (768kHz from 96kHz data).
For more information: https://chordelectronics.co.uk/
---