Chord introduced the Ultima pre/power amp pair to their Reference Series.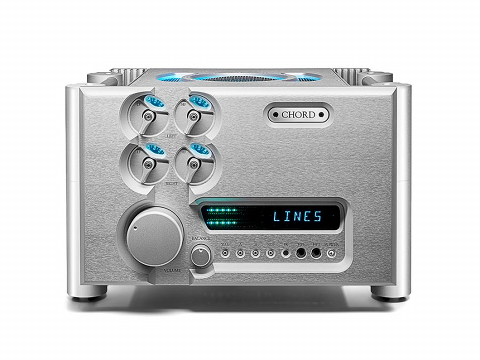 Source: Corporate website, Last Accessed: 2018/11/13
Chord Electronics recently introduced the Ultima preamplifier and one-channel power amplifier, a top-of-the-range pair of devices. The preamplifier is a product of three decades of research, design and engineering and benefits from true dual-mono construction while the power amp is the company's most accomplished design, one that draws on Chord Electronics' proprietary-technology in amplifier manufacturing.
The Ultima preamp is a world-class amplifier with advanced proprietary Chord Electronics technology, including separate ultra-high-frequency power supplies for each channel, giving the best possible separation. With the addition of low-noise circuitry, the noise floor performance is exceptional, at beyond -135dB, the company states.
Featuring impressive double-height dimensions, the Ultima preamp has been created to perfectly complement the flagship Ultima mono power amplifier and includes a wide-range of inputs and outputs both in single ended and balanced form. The Ultima offers complete flexibility for high-performance partnering equipment, enhanced further by the fascia-mounted separate frequency EQ adjust controls for the left and right channels. Headphone outputs offer further flexibility for late-night and personal listening in style.
Each Ultima preamp is hand-made in the Kent factory. Sensitive internal circuit features are protected by solid milled aluminum shielding to prevent RF interference and Chord Electronics' legendary UK-produced aircraft-grade aluminum provides a solid and resonance-eliminating enclosure for the electronics within, complemented by the famous Integra Leg System.
The Ultima mono power amplifier have been conceived for the very finest high-end audio systems, those which by their very nature, tend to have the most demanding and most difficult-to-drive large loudspeakers. According to the details published, the Ultima power amplifier features an all-new circuit topology, the first completely new design since those early days. The new dual-feed forward error-correction amplifier technology is a progression of Dr Malcolm J Hawksford's (professor emeritus at Essex University) technical paper, refined by Bob Cordell of Bell Labs, plus John Franks' own advanced concepts in ultra-high-frequency power supplies. Its power stage features 64 proprietary MOSFET power devices, while the driver circuitry features an ultra-low-distortion, high-voltage amplifier operating at very high speed, 300V/uS. The amp yields 780W into 8 Ohms, 1,400W into 4 Ohms and 2,500W into 2 ohms, with peak output current that exceeds 500 amps.
For more information: https://chordelectronics.co.uk/
---