Dali Loudspeakers formally Joined BluOS Family with Callisto wireless system.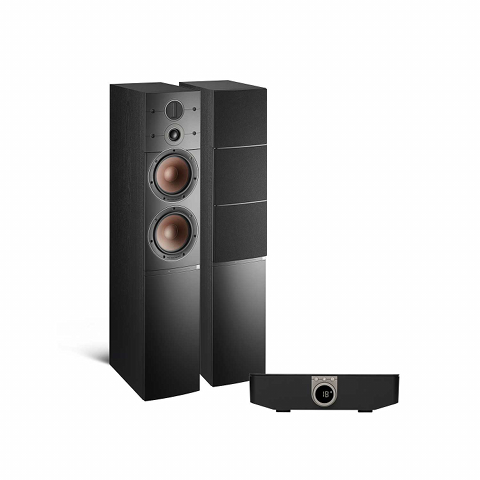 Source: Press Release, Last Accessed: 2018/05/10
With a global partnership first announced at 2017's Munich HIGH-END Show, Dali's initial launch of its Callisto Wireless Active Speaker System at this year's show formalizes a welcome addition to the BluOS family of products, now numbering nearly 20 different solutions across three well-respected high-fidelity audio brands.
The Dali products join Lenbrook International's ecosystem of BluOS Enabled and BluOS Ready components and speakers from Bluesound and NAD Electronics. The Dali Callisto solution utilizes Lenbrook's proprietary BluOS technology in the form of a modular upgrade option called the BluOS NPM-1. Adding this module allows the system to be connected wirelessly or hard-wired to a home network with access to internet radio stations, popular music streaming services and lossless music libraries stored on a computer or mobile device.
"The arrival of the Dali Callisto series in the BluOS platform ecosystem sends a powerful message. It shows the strength and opportunity that exists within the specialty audio industry for a sophisticated and purpose-built platform like BluOS to deliver to specialty dealers and installers worldwide. As announced last year, Lenbrook is in active conversation with other like-minded premium audio partners about offering BluOS as a viable, high-fidelity streaming and multi-room solution in their product roadmaps." said David Cain, Vice President of Sales and Commerce, Lenbrook International.
BluOS' brand-agnostic platform means that any BluOS Enabled device, regardless of manufacturer, can wirelessly connect with up to 64 enabled home theaters, stereo systems, components or compact all-in-one speakers within the BluOS ecosystem, for synced or asynchronous music playback in one or multiple rooms.
For more information: https://www.dali-speakers.com/, http://www.bluesound.com/
---