Emotiva's modular XPA-DR power amplifier series.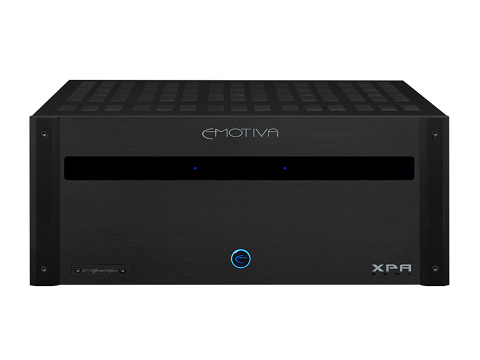 Source: Press Release, Last Accessed: 2018/04/25
The new, modular, XPA-DR Series platform delivers Emotiva's signature blend of audiophile design and performance at ultra-lean prices and includes the XPA-DR1 mono, XPA-DR2 two-channel and XPA-DR3 three-channel models which utilize up to three pairs of Differential Reference Amplifier Modules, fed by a massively over-designed, fully regulated, 3 kW switch mode power supply within a heavy-duty chassis. The DR modules are deployed in pairs to provide each channel with a completely balanced low-noise signal path from differential input to complementary fully-discrete analogue Class AB output stages.
Output stages use Emotiva's super-efficient Soft-Switch Class H power supply topology, allowing each to operate on a lower supply voltage at low power levels in order to minimize quiescent power consumption and standby power losses, and to switch instantly to a higher voltage rail when required to ensure a clean signal transit without clipping. This operation is continuous and in real time, allowing greater overall efficiency, cooler operation, longer component life, reduced power consumption, and increased reliability, the company states. The modular XPA-DR platform employs Emotiva's high-current 3 kW Switch- Mode Power Supply (SMPS), which offers the dynamic attributes of a classic transformer-based supply with none of the drawbacks. By generating large reserves of fully regulated continuous and dynamic power from a lighter and more efficient design, the SMPS ensures optimum performance under a wider range of load conditions.
The Emotiva XPA-DR1 delivers 650 watts RMS into 8 Ohms, and 1000 watts RMS into 4 Ohms, the XPA-DR2 delivers 550 watts RMS into 8 Ohms, and 800 watts RMS into 4 Ohms, both channels driven and the XPA-DR3 delivers 450 watts RMS into 8 Ohms, and 600 watts RMS into 4 Ohms, all three channels driven (all models with less than 0.1% THD).
Solid machined gold-plated RCA input connectors provide a reliable connection with a wide variety of audio interconnects, while gold plated five-way speaker binding posts with clear shields allow use of a wide range of speaker cables with bare wires, lugs, or banana plugs.
For more information: https://emotiva.com/
---