exaSound unveiled the PlayPoint DM dual-mono DAC and Network Audio Server.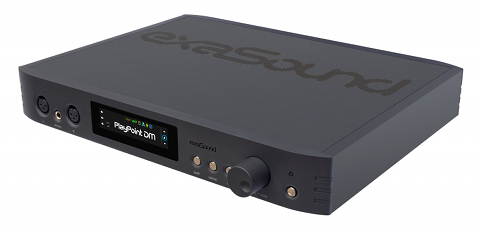 Source: Press Release, Last Accessed: 2018/05/09
The Canadian company announced the PlayPoint DM next-generation flagship music server and DAC, a combination of a reference-grade 32-bit digital-to-analog converter, a balanced headphone amplifier and a Roon-enabled music server in one elegant component, which unites simplicity with sonic perfection.
With refinements like dual-mono fully balanced design, two ES9028PRO DACs in octo-mono configuration with four autonomous I/V stages, and exaSound's unique four-way galvanic isolation, PlayPoint DM brings the best of every high-resolution audio format, while Zero-configuration comprehensive sampling rate support extends all the way up to native DSD256 (Quad DSD) and 32 bit PCM/384kHz, the company states.
layPoint DM is a Roon server and Roon Ready player. According to the press release, the PlayPoint DM seamlessly integrates Roon's deep functionality with exaSound's exceptional fidelity. Via intelligent automatic cloud service library management, Roon delivers metadata for the user's library and frees the user from the complexities of library management. In addition to Roon, the new device hosts a UPnP server and supports all major audio streaming technologies, including UPnP, Open Home, Airplay and Sygnalist NAA, and streaming services like Tidal, Spotify and Qobuz.
exaSound's President George Klissarov focuses on the best user experience possible, providing ease of use while maintaining the company's high standards. "exaSound is always about exceptional fidelity, offering dynamic music experiences that are true to the artist's intent", he stated.
PlayPoint DM, along with all of the exaSound family of exceptional fidelity products, is available from fine audio dealers worldwide and directly from their website.
For more information: http://www.exaSound.com/
---