Furutech adds to best-selling NCF Booster range with new NCF Booster-Signal.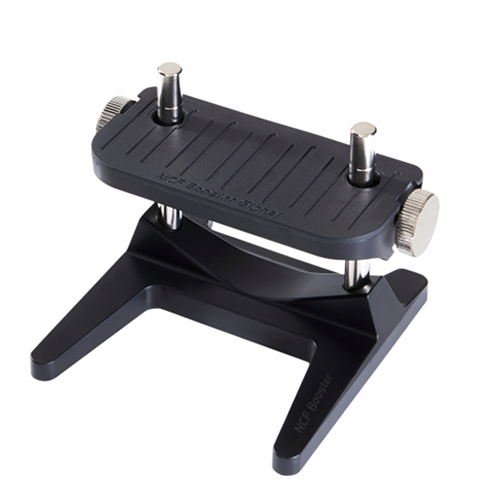 Source: Press Release, Last Accessed: 2018/06/13
Following the considerable success of Furutech's remarkable accessory, the NCF Booster, the company has introduced a second companion edition, the new NCF Booster-Signal. Prepare to be surprised at the clear and positive difference that this innovative duo can make to your system's performance, the company says.
Furutech have spent decades investigating the hows and whys of the issue in pursuit of what they call "pure transmission" – how to transmit a delicate audio signal from A to B in its most unadulterated form, neither adding anything nor taking anything away. According to the press release, with their latest duo of accessories, the NCF Booster and new NCF Booster-Signal, Furutech tackle the issue on a whole different level by addressing the interaction between cables and connectors and their immediate environment.
Both devices take the relatively common idea of cable support significantly further. Not only do they lift audio cables off the floor and enable optimum alignment between connectors and sockets, they also provide damping for both cables and connectors. That damping is specifically designed to reduce environmental interference, thus enabling a more pure and clear signal the company states. While the original NCF Booster was primarily designed for power cables and connectors, the new NCF Booster-Signal has been tailored for speaker and interconnect cables and connectors.
The key ingredient in both products is Furutech's proprietary Nano Crystal Formula (NCF) which features a special crystalline material with two active properties. First, it generates negative ions that eliminate static. Second, it converts thermal energy into far infrared. Furutech combine this crystalline material with nano-sized ceramic particles and carbon powder for their additional piezoelectric damping capabilities. The resulting Formula delivers superb electrical and mechanical damping.
The new NCF Booster-Signal features a complex internal construction quite different to that of the NCF Booster, designed to deliver a more finely-tuned and subtle damping effect for delicate signal cables (as distinct from higher voltage power cables).
The NCF Booster comes with a top clamp (designed for power cables) which can be removed if an alternative position works better in practice. The NCF Booster-Signal comes without a top clamp (designed for signal cables) but with the option to add one, again according to what works best in situ. Additional extension clamps and lower cradles are available as optional extras, allowing for multi-level support structures.
For more information: http://www.furutech.com/
---