Gershman Acoustics' Posh Loudspeaker.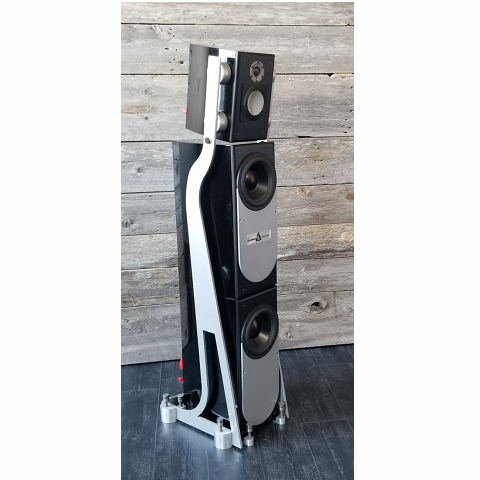 Source: Official website, Last Accessed: 2018/09/28
As they unveiled it, about one year ago, Gersman stated that the Posh has been designed to provide the best sound and quality, featuring a massive enclosure, ceramic midrange driver and twin 8-inch aluminum woofers, along with Mundord and Furutech components.
The Posh loudspeakers are constructed with a totally new approach, incorporating two entirely separate enclosures placed one above the other in such a manner that they blend seamlessly into one. Each loudspeaker has a double woofer enclosure placed on a very impressively custom designed Tip toes, and an A-shaped enclosure suspended above it by two solid steel structures, one on each side to suspend and completely separate the midrange and tweeter pair. The Posh uses one-inch HDF wood, it is rounded and tapered towards its back and features massive 0.25-inch stainless steel panels to further strengthen and deaden the enclosure.
For the high frequency part of the audio spectrum, a Morel dome tweeter is used, while an Accuton Cell 5-inch ceramic midrange driver completes the high/mid head of the loudspeaker. Two 8-inch, aluminum alloy, double magnet woofers (Gershman's design) are used for the lower region, able to produce a clean and tight bass response down to 19Hz the company says. The crossover is constructed with point to point silver soldering, using Mundorf's MCap Supreme Classic Silver-Gold Oil and MResist Supreme resistors.
All cabling, both for the internal connections and for the bridging between the tweeter/midrange and the woofers cabinets is from Furutech. Furutech's gold-plated connectors are, also, used for amplifier connection.
Each loudspeaker is finished on all sides in high-gloss lacquer. The loudspeakers' standard finish is black, but they can be ordered in any color.
For more information: http://www.gershmanacoustics.com/
---