Gold Note's Valore 425 Plus turntable.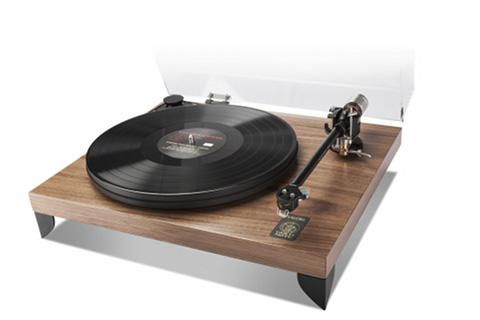 Source: Official website, Last Accessed: 2017/11/02
With a 30mm plinth shaped to reduce vibrations, Valore 425 Plus guarantees audiophile sound in a smart and elegant solution while, despite its compact size, it features a 9-inch B-5.1-derived Gold Note tonearm and a 4mm thick high mass hinged dust cover.
The 425 Plus features a 60mm main bearing and spindle, coming directly from Gold Note's top of the line turntables and the same holds for the high dampening platter (23mm thick, high dampening PTE), designed to be as close as possible to the plinth with a gap of only 3mm to reduce turbulence. A synchronous 12Volt motor based on Pulse Width Modulation technology transforms the mains voltage through an AC-DC-AC process to achieve the best coupling and guarantees high torque and minimized friction and vibrations.
Rotational speed (33 and 45rpm) is electronically controlled and can be finely adjusted. A new highly polished hourglass-shaped pulley allows the turntable's belt to spin smoothly and reduces the wow&flutter and noise to the lowest levels, the company states.
The Valore 425 Plus is available in Special Edition walnut real veneer and ultra-transparent acrylic, combining stunning look and even higher performances due to the better dampening effect. It is, also, available in lacquered black or white finish, or covered in real leather on demand.
For more information: http://www.goldnote.it/
---