Acoustics 2018 Conference to be held in Patras, Greece.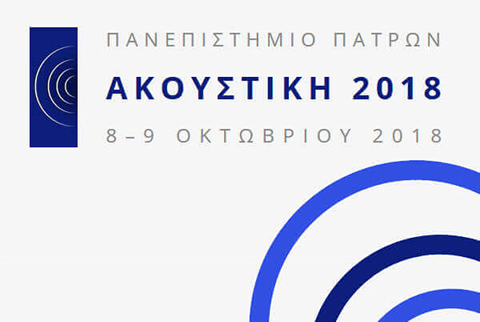 Source: Press Release, Last Accessed: 2018/09/21
The 9th National Conference "Acoustics 2018" is organized by the Hellenic Institute of Acoustics (Hel.In.A., a member of the European Acoustics Association) on Monday 8 and Tuesday of October 2018, at the Conference and Cultural center of the Patras University.
The conference sessions will include the following topics:
Digital sound processing, Building Acoustics, General Acoustics, Underwater Acoustics, Acoustic Education, Acoustic Measurements, Noise and Vibration Control, Musical Acoustics, Environmental Acoustics, Acoustic Archaeology.
Details for the program and the conference are provided at the official website. A Special Session "Developments in audio technology" will be held on Tuesday 9th of October on 15:30, being open to all. The session will include an invited presentation by Prof. (em.), Jens Blauert entitled: "The human auditory system as a cybernetic aggregate". The presentation will be followed by technical presentations from the Accusonus and Dialog Semiconductor companies which are locally active in the field of audio.
For more information: https://conferences.helina.gr/2018/en/
---