iFi's Pro iDSD DAC/Streamer.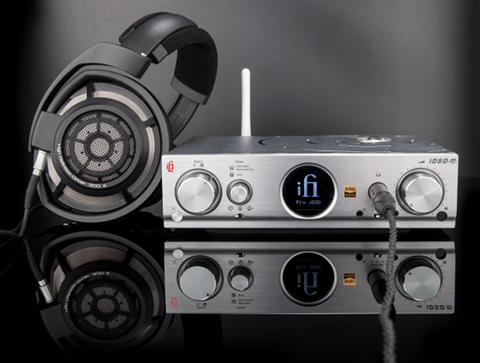 Source: Press Release, Last Accessed: 2018/09/29
Having sparked a revolution with its low-cost DACs that offered portable DSD256 playback for less than £500 a few years ago, iFi has maintained its position at the vanguard of the audio world with the launch of the ground-breaking Pro iDSD DAC/Streamer. According to the press release, the new device is a revolutionary DAC that combines a number of different features to give a home audio system the best possible playback resolution and sound.
Tried and tested classic noise reduction techniques found in tube equipment have been combined with cutting-edge, 21st century technology to deliver a superlative performance. The new XMOS XU216 X-Core 200 Series 16-Core processor has a maximum of 2,000 MIPS (two billion instructions per second) calculation power in dual-issue mode as a USB interface while a Crysopeia FPGA Digital Engine handles the upsampling duties to attain the DSD1024 audio format. In fact, the Pro iDSD can handle all audio formats to DSD1024 or DSD512 or PCM 768K with user-selectable digital filters. The d/a section uses a quad "stack" of Bit-Perfect DSD and DXD DACs by Burr-Brown in a custom interleaved configuration. This arrangement enables a total of eight pairs of differential signals to be used and mixed totaling four pairs of signals per channel, the company says.
The Pro iDSD (along with Pro iCAN) is the very first of its kind that has two individual circuits; one tube and one solid state. The tube circuit is based on General Electric 5670 tubes and offers two settings: Tube and Tube+. The Tube+ setting reduces overall loop-gain and thus negative feedback to the minimum. This gives a different sonic perspective between the tube's natural harmonics and transient performance, iFi states. The solid state circuit is a dc-coupled, three-stage design, with a J-FET input stage, a bipolar gain stage and a MOSFET/Bipolar class A power stage. Volume control features a 6-Track premium Alps motorized potentiometer with 4 tracks used for a true balanced signal control.
With LINKPLAY WiFi/network playback, built-in Spotify and Tidal, and wide support for 32-bit/192kHz and DSD64 streams, the Pro iDSD can directly link to a router for online music play. The device can play direct from an SD card, link to a router and directly stream from online services like Tidal and Spotify, or use DLNA protocol to access music stored on HDDs.
The retail price of the Pro iDSD is US$2,499 (ex-tax) or €2,749/£2,499 (incl. VAT).
For more information: https://ifi-audio.com/
---