iFi announced the xCAN portable/wireless DAP amp with both TRS and TRRS in/out.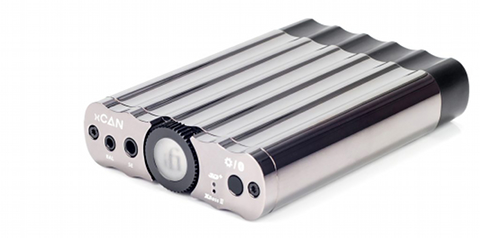 Source: Press Release, Last Accessed: 2018/10/25
The xCAN is a portable, wireless DAP amp, capable of storing eight Bluetooth devices at once while delivering 1000mW of power per channel. And with built-in aptX and AAC Hi-Res streaming via Bluetooth it's so clever, it replaces two previous iFi products in one go, the micro iCAN SE and the nano iCAN. Additionally, not only can the xCAN be used as a powerful headphone amplifier with smartphones, computers and DAPs, it can also be used at home with your smart TV by pairing it via Bluetooth.
According to the press release, the xCAN features a pure analogue volume control (through a stepped attenuator with a range between -95dB and +18dB) retaining full-resolution at all volume levels and includes the 3D+ and XBass II functions as well as both balanced and S-Balanced outputs.
The xCAN is built around an ESS Sabre DAC with time domain jitter eliminator for the digital signals from the Bluetooth wireless connection and includes a 2.5mm TRRS balanced input and 3.5mm TRS input for analog signals. Headphone output is delivered as both a 2.5mm TRRS balanced output and a 3.5mm TRS, S-balanced output.
The amplifier is capable of six-to-eight hours of operation through a 2200mAh Li-Po battery. Charging is through a USB C-type port. xCAN features a resilient magnesium-aluminum body measuring 95x6.5x19mm, like the xDSD and weights just 127gr. The retail price is $299 (ex-tax) or €349/£299 (incl VAT).
For more information: https://ifi-audio.com/
---