Krell's new K-300i stereo integrated amplifier.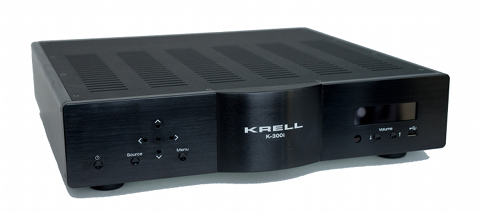 Source: Press Release, Last Accessed: 2018/06/15
Krell Industries has earned a distinguished reputation over the past 30-plus years for engineering innovation and product excellence. In 1999, Krell engineering team headed up by Dave Goodman released the original KAV-300i integrated amplifier which was the world's first high-end integrated amplifier that delivered audio performance similar to high-end separates but from a single compact chassis. Fast forward to 2018 - Krell is pleased to announce a radically advanced integrated product that offers the latest in analog and digital performance - the new K-300i.
The K-300i incorporates a newly developed amplifier circuit design with Krell iBias technology that delivers 150 Watts/Channel into 8 Ohm and 300 Watts/Channel into 4 Ohm loads. According to the press release, iBias provides the sonic benefits of Class A operation without the excessive heat and power consumption of traditional Class A designs. A 770VA transformer with 80,000uF of capacitance forms a potent power supply for excellent signal control and dynamics. Current Mode topology is employed with fully differential circuitry that runs from the input stage through to the last output gain stage providing an extremely linear and extended frequency response curve with smooth, effortless highs and extremely dynamic bass energy the company states.
With the digital option installed, the K-300i becomes a world class DAC with the connectivity and features to support the latest digital music formats. An ESS Sabre Pro DAC configured for high current output performs the digital to analog signal conversion for uncompromised reproduction of digital music. A network streaming audio renderer with dedicated mobile App plays AAC, ALAC, AIFF, FLAC, WAV, WMA, and DoP files up to 192kHz/24-bit from UPnP music servers or NAS devices. The digital option also provides Spotify, vTuner Internet radio, Tidal, Deezer, and QoBuz streaming services, is Roon Ready and decodes MQA.
HDMI 2.0 inputs and output supporting 4K UHD with HDR are available for TV viewing with audiophile grade sound quality. A single USB host port is available on the front panel to play music from USB flash memory sticks and a USB device port is positioned on the rear panel for streaming music directly from a computer. User friendliness is enhanced through a convenient Bluetooth receiver with aptX technology. The K-300i has an internal web server that is optimized for tablets and provides a remote graphical user interface for convenient and intuitive control.
For more information: http://www.krellonline.com/
---