LAB12 Moved to new site, ready to offer more demos of their equipment!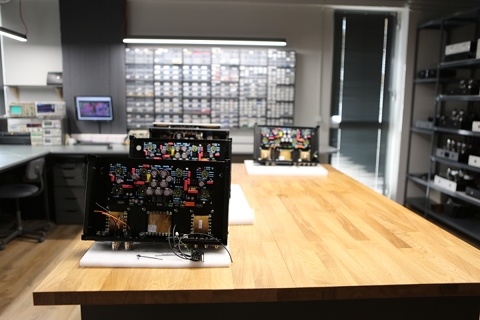 Source: Press Release, Last Accessed: 2018/05/03
The company from Greece recently announced that they have moved to new facilities, which are better suited to the increased production needs and, of course, more inviting for those who want to see and listen to some of their devices!
Based on what we saw, LAB12's new working environment includes some serious office, lab, production line, and warehouse space and a large demo room, as well. Their new headquarters are now located at Metamorfosi-Attiki/Athens, (57A, K. Varnali Str., 14452) and their landline is 0030-210-284.5173, if you need to contact them through telephone.
We first learn about LAB12 back in 2012 when we had the opportunity to see their first product, the DAC1 SE d/a converter, a non-oversampling design with its now-classic chassis and signal level meters. Today, the company has become one of the most active Greek manufacturers of audiophile equipment. They specializing in tube designs and offer a good range of products, including the integre4 integrated amplifier, two class A power amplifiers, the Suono and the Mighty, a preamplifier (pre1) and a headphone amplifier (the HPA with an OTL output stage). The DAC1 SE is still also in production. LAB12 also offers the Gordian Power Filter-Analyzer (one of the best devices of its kind that we have been able to review, a smaller version of it, the noir, and a passive preamplifier, the true.
For more product-related information, you can contact the company directly.
For more information: http://www.lab12.gr/
---