LG unveiled the SK10Y soundbar.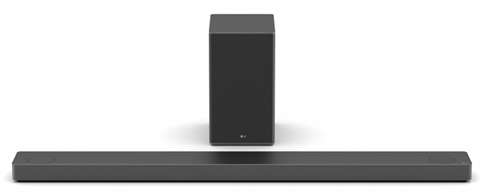 Source: Press Release, Last Accessed: 2017/12/28
LG's new SK10Y soundbar delivers 550W of powerful output and supports 5.1.2 channels by harnessing the power of Dolby Atmos technology and Meridian's experience in high-performance, high-fidelity audio through Digital Signal Processing (DSP) and knowledge of psychoacoustics. A unique aspect of the Atmos technology is that "sound objects" can be precisely placed anywhere in a three-dimensional space for an immersive sound from all directions, including the ceiling, which enhances realism and the effect of being in the middle of the action. To create such powerful, textured sound, the SK10Y is equipped with multiple speakers – including a pair of powerful up-firing speakers – to envelop the listener from every angle. Users can adjust the volume of the up-firing speakers to optimize the sound with the height of the ceiling in room.
According to the press release, LG's partnership with Meridian Audio benefited the SK10Y speaker with innovative audio enhancements designed to deliver an unsurpassed listening experience. As a pioneer of high-performance, high-fidelity audio and an authority on Digital Signal Processing (DSP) and the field of psychoacoustics, Meridian equipped the SK10Y with a high level of performance including its Bass and Space technology to envelop listeners in rich, uncompromising sound. No matter where the listener is seated, sounds seem warmer and immersive. Meridian's Height Elevation technology raises sound above the sound bar to the level of the screen, bringing extra clarity to speech and music, LG states.
The soundbar is compatible with high-quality lossless audio files to perfectly recreate sound recorded in the studio. In addition to playback of up to 40kHz, the speaker also offers a sound up-converting feature that boosts the quality of standard audio files to 24bit/192kHz to enhance subtle details and nuances of each track.
From a design perspective, the SK10Y is a head turner with its harmonious, modern-looking edges and a slim profile that seamlessly fits underneath many of LG 2018 OLED or SUPER UHD TV models. The device is also extremely accessible, with full connectivity to hubs, speakers and other smart devices supporting Chromecast. Simply say "OK Google" and your request to begin playing your favorite song, podcast or audio clip from your favorite online streaming service.
For more information: http://www.lg.com/
---