L-509X: Luxman's new flagship AB class integrated amplifier.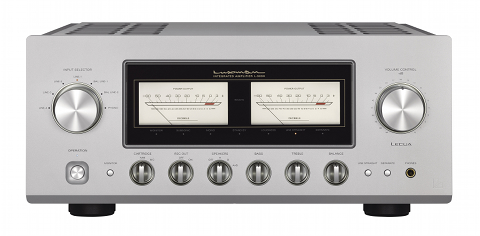 Source: Press Release, Last Accessed: 2018/02/16
Luxman's new L-509X flagship AB class integrated amplifier features the performance of separate amplifiers in a single unit, for audiophiles who are looking for a high quality, multi-functional, but simple system.
The amplifier features the ODNF (Only Distortion Negative Feedback), V4.0, 3-stage Darlington circuit, in a four parallel push-pull, class AB configuration, yielding 120W per channel (8 Ohm) and 240W per channel (4 Ohm) with greatly improved distortion characteristics in the high frequency range, the company states.
The latest ODNF version 4.0 provides a fast initial slew rate and wide bandwith with lower distortion and comes along with a highly stable power supply that combines an EI type 600 VA highly regulated power transformer and large independent left and right channel filter capacitors, totaling 80,000uF (10,000uFx8). A discrete buffer circuit similar to that found in the high-end C-900u control amplifier is located in the output stage of the preamplifier, improving driving power for the power amp section.
L-509X features Luxman's 88-step LECUA (Luxman Electric Controlled Ultimate Attenuator) 1000 attenuator system with electronically controlled Bass/Treble tone controls and Left/Right balance adjustment control, along with a volume-linked loudness function that matches human hearing characteristics. The amplifier offers 4 Line-level inputs, an MM/MC phono input, two balanced (XLR) inputs and a power amplifier input. A recording loop pair and a preamplifier output are also included.
The chassis design follows Luxman's classic symmetrical design, centered around a pair of traditional analog level meters. The large aluminum knobs for the source selector and the volume control are capped with gleamimg hair line finish and blasted white barrels. These, combined with the blasted white front panel and matching but smaller in diameter knobs for the secondary controls (tone/balance, phono gain etc) promise to impress many audio fans, crossing the boundaries of integrated units and separates, Luxman says.
For more information: http://www.luxman-global.com/
---