The electron 28n: Mamalos introduced their power cable, based on nanotubes technology.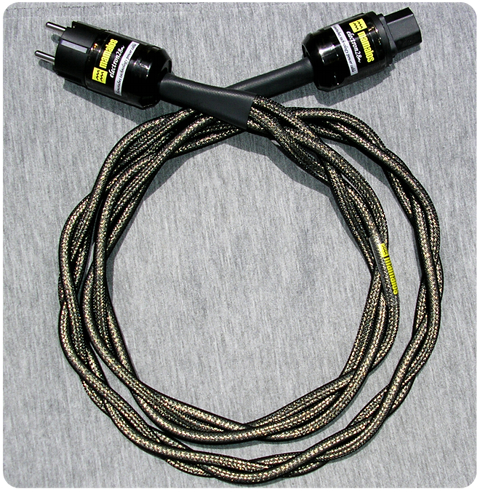 Source: Press Release, Last Accessed: 2018/04/16
Electron28n is Mamalos' audiophile power cable to employ their newly developed Carbon Nanotubes Treated Power Conductors and is capable to deliver high current without injecting unwanted electrical noise into nearby interconnect and speaker cables.
The new cable consists of three externally twisted, independently shielded and nanotube-treated pure copper conductors, providing additional protection against magnetically coupled interference. This approach offers a remarkably transparent sound, relaxing and more open than its conventional single shielded configuration counterparts, the company says. Every component in this new flagship cable range has been completely redesigned. Conductors, shielding, geometry, connectors, canopy, raw materials, everything has been developed after a long research, taking them to the next level. The result is an uncompromising quality, efficient cable.
Electron28n is a heavy shielded but quite flexible power cable available in a beautiful silver-black color. It is designed to deliver up to 28 Amperes/230 volts, which is sufficient to create the optimum connection paths for the most demanding audio equipment. It is composed of three heavy twin-core signal conductors, custom-made of 99.999% soft temper pure, fine copper that are exclusively made of protogenic (first-born), carefully maintained ore, in order to eliminate the surface mechanical anomalies.
According to the details publisher, the conductors are thoroughly cleaned through a two-stage procedure that improves the electrical signal transmission properties and provides extremely low distortion. The procedure is the same as Mamalos' silver conductors. Each cleaned pure copper conductor is immersed, under very specific conditions, into the company's unique masterbatch which consists of functionalized multi-wall carbon nanotubes (MWCNTs), allowing them to fill-in the voids between metal molecules and coalesce, holding together by van der Waals force, thus treating any surface minor damages and critically increasing conductivity.
Over each one of the Carbon Nanotubes Treated Conductors, 46 separate layers of the same functionalized multi-wall carbon nanotubes masterbatch are pi-stacking together surrounding them, encapsulated immediately within a high chemical resistance heavy yet quite flexible PVC formulation tube, stabilizing the entire system and providing excellent flexibility, safe electric insulation and durability.
The electron28n power cable is available with Platinum plated, over 99.999% OFC pure copper power connectors and is carefully checked, separately measured and double-tested before carefully packed in a luxurious real wooden box specially designed to protect it and prevent any damage.
The electron28n power cable comes with a 4-year warranty against manufacturing defects (product registration is needed). Mamalos also offers a 30-day trial period and a money-back guarantee by refunding the purchase price minus a 5% restocking fee.
For more information: http://www.mamalos.com/
---