MartinLogan unveiled new subwoofer line, featuring wireless connection, control and ARC technology.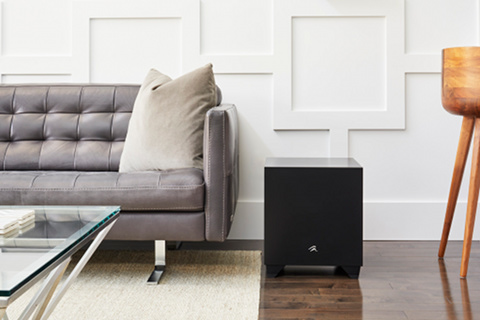 Source: Press Release, Last Accessed: 2018/06/18
MartinLogan's new series includes the Dynamo 400, 600X, 800X, 1100X, and 1600X models, the X in the model names designating the inclusion of app based controls via Bluetooth, wireless Anthem Room Correction (ARC), and wireless signal connection capability.
Advanced-technology inverted surround woofers pair a powerful magnet structure with a rigid, lightweight diaphragm, and powerful amplifiers, featuring RCA, XLR, speaker level, and wireless signal connectivity. Putting control in the listener's hands, iOS and Android subwoofer control apps allow configuration of subwoofer settings while industry leading Anthem Room Correction (ARC) guarantees an accurate bass performance custom tailored to each unique listening room, the company states.
Anthem Room Correction measures low-frequency sound output in a room and compares it to optimal response curves that account for spatial anomalies. The advanced algorithms of Anthem Room Correction effectively remove anomalies, leaving only the ideal standard—realistically blended, natural-sounding bass. Dynamo 600X, 800X, 1100X, and 1600X utilize a Bluetooth connection with a smartphone or USB connection with a PC to run Anthem Room Correction. App based controls include volume level, low-pass filter (frequency and order), phase, 20–30Hz level, three preset listening modes, and control of Anthem Room Correction. A unique tone sweep feature assists users in locating areas in listening rooms where troublesome rattles or resonances may occur.
All five new Dynamo subwoofers feature left and right input via RCA line level and speaker level connections, while Dynamo 400 and 600X's right input doubles as an LFE input for home theater applications and 800X ups the ante by adding a discrete LFE RCA line level input. Dynamo 1100X and 1600X go one step further by adding both XLR and RCA inputs for LFE connection.
Dynamo 800X, 1100X, and 1600X subwoofers can easily convert from standard down-firing to front-firing orientation, with no tools or special skills required. A grille is provided for use in front-firing applications. According to the press release, the latest generation of MartinLogan Dynamo subwoofers features advanced-design woofers with inverted surrounds and powerful magnet, motor, and suspension designs. Dynamo subwoofer class-D amplifiers feature low-noise, high-power switching power supplies and high-quality MOSFETs, transformers, noise-suppression networks, and control circuitry.
For more information: http://www.martinlogan.com/