New SA-CD/CD Transport from McIntosh.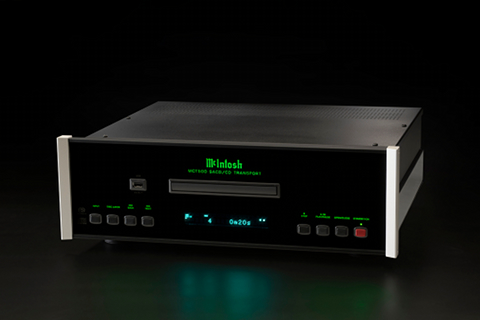 Source: Press Release, Last Accessed: 2018/02/15
The MCT500 is a digital only unit and features 4 digital outputs; industry standard balanced, coax and optical outputs plus McIntosh's exclusive MCT connector. To enjoy CDs, it can be paired with any product that has standard digital inputs and a DAC, while for SA-CD playback, the MCT500's proprietary MCT output needs to be connected (via the included cable) to a McIntosh product with an MCT input. This includes select McIntosh preamplifiers and integrated amplifiers. When an MCT connection is made, a secure digital connection is created, allowing for the playback of the high definition audio found on SA-CDs. Regular CDs can also be played over the MCT connection.
All common disc types can be played on the MCT500, including SA-CD, CD, CD-R/RW and DVD-R. A USB input is conveniently located on the front panel for easy access. In addition to store bought CDs and SA-CDs, popular file formats such as AAC, AIFF, ALAC, DSD (up to DSD128), FLAC, MP3, WAV (up to 24-bit/192kHz) and WMA can be played from user generated CD or DVD Data Discs and USB flash drives.
Disc handling is smooth and quiet thanks to an advanced disc transport with a precision die-cast aluminum tray, the company says. An advanced digital servo provides fast, quiet and accurate operation. A disc's audio data is read at twice the normal rate insuring better disc tracking and error correction processing.
MCT500 is wrapped in classic McIntosh styling with a polished stainless steel chassis, black glass front panel, illuminated logo and aluminum end caps. Suggested retail price is $4,500 (VAT, shipping and any customs duties related to current standards of individual countries are excluded).
For more information: https://www.mcintoshlabs.com/
---