NAD completes makeover of Classic Integrated Amplifiers with the addition of C 316BEE V2.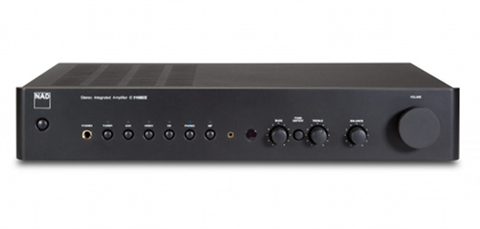 Source: Press Release, Last Accessed: 2018/05/10
NAD Electronics announced an update to one of its most popular amplifiers ever: the C 316 BEE V2. Blending simplicity with best-in-class performance, the updated NAD integrated amp now includes an MM phono input featuring the company's acclaimed RIAA equalization circuit. The update of the C 316 BEE V2 completes a two-year makeover of NAD's five Classic integrated amplifiers which also include the C 328, C 338, C 368 and C 388. Recognizing that many music lovers have rediscovered vinyl, all five models feature a high quality MM phono stage that combines low noise with high overload margins to eliminate noise and distortion. There is also an infrasonic filter to help control low-frequency feedback, handy to control floor and cabinet vibrations.
Staying true to the clean design lines for which NAD has become world famous, all five models have undergone an update to their industrial design. Slightly curved edges to the charcoal front panel are combined with a clean ergonomic layout where simplicity and ease of use are paramount.
The flagship models of the NAD Classic amps, C 388 and C 368, feature Modular Design Construction (MDC) with card slots to accommodate changes in technology to help prevent obsolescence. A popular use of MDC is the addition of a BluOS module that instantly transforms either amplifier into a wireless, high-res, multi-room hub. For C 388 and C 368 owners who want to go beyond remote control, NAD now offers a free mobile control app for smartphones.
The C 338 is the first amplifier to feature Chromecast built in. It is Wi-Fi enabled for network streaming of internet services, internet radio and UPnP. The C 328 is a step up over the C 316 BEE V2 and offers increased power with support for Bluetooth.
The C 316BEE V2 (€399 MSRP) is available now (from July in North America at US$399 MSRP).
For more information: http://www.nadelectronics.com/
---