NAD introduced the VISO HP70, their first wireless headphone with active noise canceling.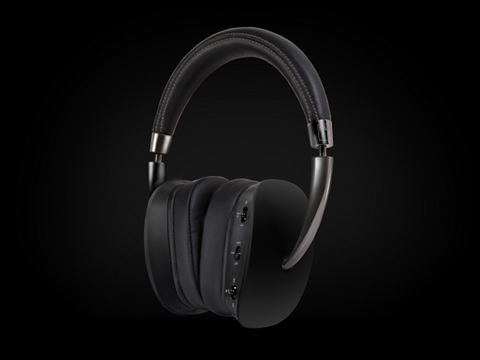 Source: Press Release, Last Accessed: 2018/01/09
NAD introduced the VISO HP70, a wireless, full-size headphone with Active Noise Cancellation (ANC), Tri-Mode operation and the company's exclusive RoomFeel technology. The VISO HP70 is NAD's first wireless headphone and the company's most advanced design to date. A much-anticipated encore to the best-selling HP50, launched in 2013, the HP70 is targeted for the performance-minded music lover on-the-go.
The HP70 employs Tri-Mode operation that simply means the headphone can be operated in three different ways: Active with ANC, Active only or Passive mode. In environments where noise is audible, Active with ANC is recommended while some may choose Active without ANC where ambient noise is not an issue. Passive mode is offered for those who have a dedicated amplifier or when the built-in power pack is running low (the battery lasts up to 15 hours).
The HP70 features RoomFeel technology. Used in all NAD headphones, RoomFeel makes music sound more natural by considering the effects of the room on music playback, the company says. The HP70 features aptX HD, enabling 24-bit music quality over a Bluetooth wireless connection. There are also two different wired modes of operation – 3.5 mm wired connection or via USB from the computer which also recharges the batteries. For convenience, the HP70 comes supplied with a recharging cable.
Particular attention to comfort and ergonomics has been placed in the design of the HP70, which, with a weight at 320gr is quite light for a full-size, active headphone. The unique multi-axis adjustable ear cups conform to the user's head, while the HP70 folds flat and comes supplied with a compact case for travel or storage. Tangle-free cords are supplied for wired connection and for USB connection to a computer. The headphone also can be paired with most smartphones and used for phone conversations. A "listen through mode" allows the user to momentarily listen to the outside world as well as have the ability to answer a connected phone. Two built-in, hands-free mics provide enhanced clarity.
Like all NAD headphones, final voicing is performed by sister company PSB Speakers' founder and Chief Designer Paul Barton at Canada's famed National Research Council.
For more information: http://www.nadelectronics.com/
---