Naim's Mu-so range will support AirPlay 2.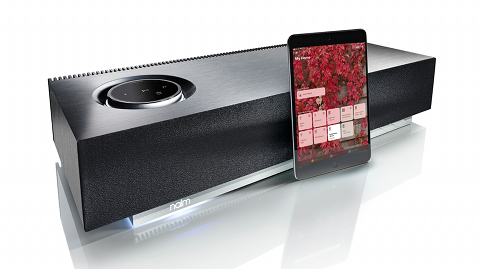 Source: Press Release, Last Accessed: 2018/10/28
Naim Audio recently announced that Apple AirPlay 2 technology will be available soon for its award-winning Mu-so range, bringing with it highly advanced multi-room audio capabilities and natural voice controls via Apple's Siri virtual assistant.
Owners of the Mu-so and Mu-so Qb will be able to enable AirPlay 2 functionality by updating their firmware, plus their iPhone, iPad, iPod touch or Apple TV with the latest 11.4 iOS software. Once the update becomes available, the Naim app will prompt customers to perform an over-the-air update.
AirPlay 2's multi-room audio functionality allows the listener to effortlessly stream music (or podcasts, or YouTube video audio) from his Apple TV, iPhone or iPad to his Naim Mu-so or Mu-so Qb, as well as any other AirPlay 2-enabled loudspeakers (including Apple's own HomePod model). He can quickly select as many or as few of the loudspeakers he wants to use in his iOS device's Control Center, allowing for a single or a multi-room (group or all rooms) experience.
All iOS apps with audio include manual AirPlay 2 controls for playback and volume adjustment, but the new addition of Siri integration makes taking control easier than ever. Thanks to Siri's advanced voice recognition, Apple Music subscribers can now use natural spoken commands to request a track, album, artist or playlist, play or pause playback, skip track or adjust the volume. When used in conjunction with a multi-room AirPlay 2 system, Siri can be asked to play different songs in different rooms, or groups of rooms, or the same track across the entire system.
Last but not least, AirPlay 2 introduces enhanced buffering. Boosting both the quality and stability of streaming audio, it means compatible products will better avoid skips and drops when streaming from Apple Music or YouTube.
For more information: https://www.naimaudio.com/
---