Onkyo A-9110 and A-9130 integrated stereo amps aim for rich and comfortable sound.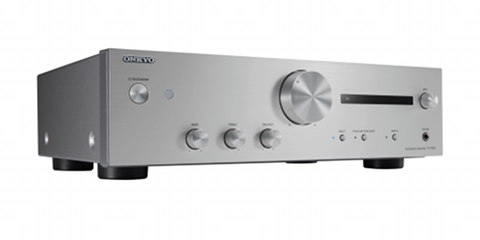 Source: Press Release, Last Accessed: 2018/08/14
Onkyo has unveiled new A-9110 and A-9130 integrated stereo amplifiers that further refine the company's acclaimed A-9010, an entry-class amplifier that's won an excellent reputation for musicality and dynamism in the global marketplace.
The A-9110 (50W+50W, 4 ohms, 20Hz–20kHz, 0.9% THD, 2-ch driven, IEC) and digital-audio-ready A-9130 (60W+60W, 4 ohms, 20Hz–2 kHz, 0.5% THD, 2-ch driven, IEC) both feature custom-made or hand-selected parts, simplified and shortened signal-path topology, and specialized tuning to burnish a golden Hi-Fi sound.
Key to the amp's lively dynamics is WRAT (Wide Range Amplification Technology), Onkyo's high-current platform featuring high-output EI transformer, two large custom-made main audio capacitors, and discrete power transistors. High-current capability assures instantaneous response to speaker-impedance fluctuations while precisely controlling the drivers for accurate yet musical expression, Onkyo says.
According to the press release, Onkyo sound designers tuned these amplifiers after repeated listening tests, achieving a warm, rich, and full tonal character sure to appeal to European sensibilities, the sound made possible with a blend of custom-fabricated and hand-selected high-quality parts. These bass-rich amplifiers are very smooth and relaxing to enjoy for long periods.
Ample connectivity comes with RCA line-level inputs (four for the A-9110 and five gold-plated inputs for the A-9130) and discrete MM phono preamplifiers. The A-9130 adds coaxial and optical digital audio inputs with signals decoded by a high-end Wolfson WM8718 D/A converter, supporting 192 kHz/24-bit audio playback. The digital audio board automatically shuts down when an analog input signal is detected to reduce potential interference on the signal. The A-9130's digital audio inputs are ideal for TV connection, giving a powerful boost to games, films, and TV sound. Both models have line-level outputs, subwoofer outputs, and top-quality non-magnetic speaker binding posts with clear knobs. The A-9130 also includes a direct main power-amp input for connection of an external preamplifier.
Tackling the effects of electromechanical resonance, the A-9110 receives a significant upgrade to casework rigidity over the A-9010. Both the A-9110 and A-9130 have thick 1.6 mm metal chassis to dampen vibration and associated noise in concert with large insulators. The clean front-panel design is refreshed by a slim display panel showing active input.
For more information: https://www.onkyo.com/
---