Panasonic launched new line-up of UHD Blu-Ray players including reference-class UB9000.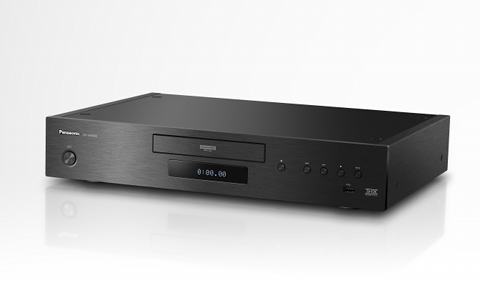 Source: Press Release, Last Accessed: 2018/02/13
Panasonic announced the launch of its latest Ultra HD Blu-ray players, including two models, the DP-UB9000 and the DP-UB820, which both support, through a software update, HDR10+ dynamic metadata technology, the next-generation HDR format. In addition, the accompanying DP-UB320 completes the line-up for 2018, which comprises of three players, all Ultra HD Premium certified. Spearheading the line-up is a high-end, universal AV player, the UB9000, which includes both HDR10+ and Dolby Vision technology and reproduces Ultra HD Blu-ray, Video On Demand (VOD), and USB content.
The 2018 portfolio of Ultra HD Blu-ray players is powered by a Hollywood Cinema Experience (HCX) Processor, expertly developed and refined by specialists in the heart of Hollywood. According to the press release, regardless of the type of content, the result is a thrilling home entertainment experience, just as the filmmaker intended. In addition to the high picture quality of its HCX Processor, the reference-class UB9000 offers extremely high sound quality thanks to its analogue audio circuits, including a dedicated audio power supply, a high-performance D/A converter, and XLR balanced output, Panasonic adds.
Two of the new Panasonic Ultra HD Blu-ray players, the UB9000 and UB820, support HDR10+ dynamic metadata technology which will offer considerable benefits to viewers through optimizing the viewing experience on a scene-by-scene basis. HDR10+ is an open, royalty-free dynamic metadata platform created by 20th Century Fox, Panasonic and Samsung. The UB9000 and UB820 also support Dolby Vision. Dolby Vision transforms entertainment experiences by delivering greater brightness and contrast, as well as a fuller palette of rich colors. Panasonic's proprietary HCX Processor for Ultra HD Blu-ray has been improved by applying unique chroma and gradation processing to the video technologies which were developed at the Panasonic Hollywood Laboratory (PHL), the R&D facility for enhancing Blu-ray picture quality. Launched last year, the HCX Processor reproduces Ultra HD Blu-ray and internet-streamed 4K video images with stunningly precise colors and optimal brightness, the company says. The UB9000, UB820 and UB320 series have an original 4K Direct Chroma Up-scaling feature that up-converts Full HD to 4K resolution for displaying beautiful colors.
The UB9000 and UB820 support analogue 7.1 channel audio for direct connection to a home theater system and are designed for high-resolution audio reproduction. In addition to conventional WAV/FLAC/MP3/AAC/WMA formats, DSD (11.2MHz/5.6 MHz/2.8 MHz) ALAC and AIFF music files can also be reproduced. UB9000 and UB820 support voice control from Google Assistant and Amazon Alexa (both coming soon).
For more information: https://www.panasonic.com/global/home.html