Parasound introduced a new, more affordable Halo Phono Stage Preamplifier.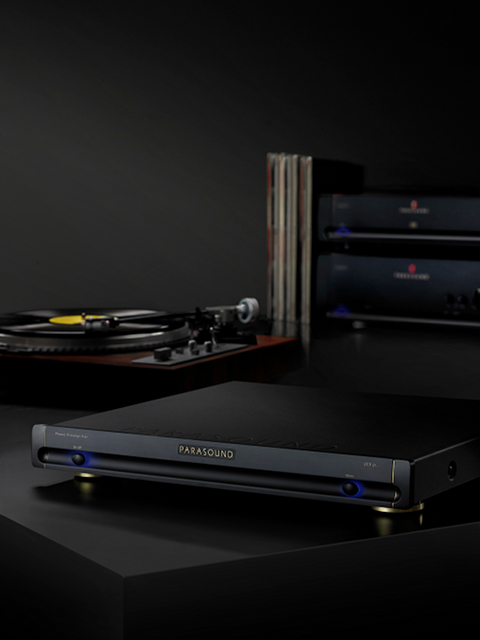 Source: Press Release, Last Accessed: 2017/09/28
Parasound has introduced a more-affordable John Curl-designed phono preamplifier for a new generation of analog LP and turntable enthusiasts. The new Parasound Halo JC 3 Jr. stereo phono preamplifier is about half the price of the company's $2,995 premium dual-mono Halo JC 3+, which is widely acknowledged as one of the world's best phono stage preamplifiers.
"The JC 3 Junior grew out of our recognition that the price tag on the Halo JC 3+ can be an impediment to first-time-vinyl millennials and seasoned audio enthusiasts alike," said Richard Schram, Parasound's President and founder. "So, we decided to put it on a diet."
The resulting Parasound Halo JC 3 Jr. is a high-performance, low-noise stereo phono preamplifier for use with moving magnet and moving coil (MM and MC) phono cartridges. The precision gain circuits feature independent control of gain and load impedance for an optimal interface even with extremely low-output moving coil cartridges.
The new preamp incorporates sophisticated new audio circuits created by John Curl and circuit boards layouts by Carl Thompson, Curl's circuit board design partner. While the JC 3 Jr. circuits are stereo rather than the dual mono topology of the JC 3+, they are no less elegant or sophisticated. Schram contends that "nobody can design ground planes better than Thompson," and this is evident in the JC 3 Jr. outstanding signal-to-noise ratio and utter absence of background noise.
The JC 3 Jr. shares many of the same component parts with the JC 3+, including Neutrik locking XLR jacks and Vampire 24k gold-plated RCA jacks. Its toroidal power transformer capacity is nearly as great as the JC 3+ and its RIAA equalization network employs the same REL capacitors and other passive parts used in Curl's legendary Vendetta phono preamp.
To help achieve their price goal for the JC 3 Jr., Parasound has created an all-new, lower profile Halo chassis that is just one rack-space tall. A substantial aluminum partition isolates the phono stage board from the power supply, power transformer and internal AC wiring. The power transformer is encased in a steel enclosure to prevent emissions that could contaminate ultra-sensitive audio circuits. Convenience features include a stereo/mono mode selector as well as auto turn on with a 12V trigger.
The Parasound Halo JC 3 Jr. is available in black or silver finish with a suggested retail price of $1,495 (in the US market).
For more information: http://www.parasound.com/
---