Perpetuum Ebner unveiled their new entry-level turntable.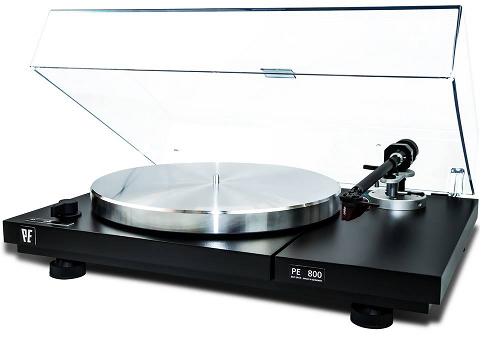 Source: Official website, Last Accessed: 2018/10/16
PE800 is a new, entry-level model from the German manufacturer, a split-chassis design based on a gimbal-suspended tonearm, available with a pre-installed cartridge.
The two parts of the chassis featured in the new deck are made of solid wood with the characteristic separation of the two surfaces we have seen in other PE's models. Both are lacquered in a variety of colors and use elastic support points for greater vibration damping.
The platter is made of acrylic material, includes a felt mat and is belt-driven through a DC motor-and-subplatter combination. The subplatter used is made of synthetic material (ABS). Speed selection is done electronically (33/45). PE800's tonearm is Perpetuum Ebner's TO2017. It's a gimbal-suspended design with aluminum arm-tube, featuring a thread-and-weight antiskating force arrangement.
Perpetuum Ebner offers the PE800 with an Ortofon 2M Red moving magnet phono cartridge pre-installed.
For more information: http://www.perpetuum-ebner.de/
---